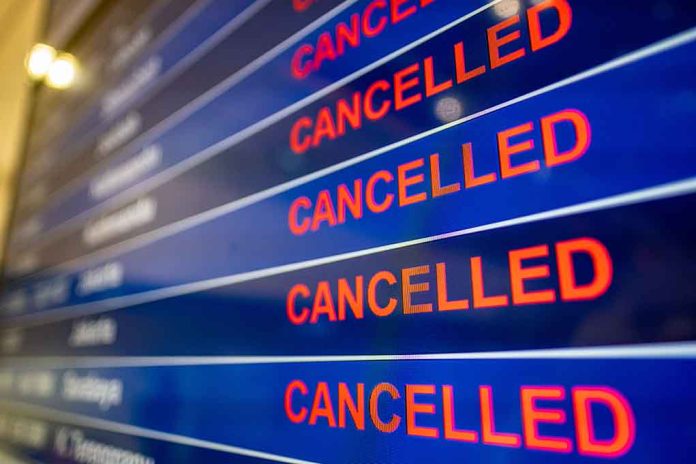 (BrightPress.org) — Southwest Airlines has been at the center of a vast number of flight cancelations, stranding tens of thousands of travelers as 2022 comes to a close. Particularly hit hard were folks traveling in California, as Southwest is Cali's "unofficial airline" serving a considerable number of travelers in the state.
CEO Bob Jordan blamed the bomb cyclone winter storm which saw record low temperatures across the country over the Christmas holiday and in the days before and after. Snow storms also caused significant disruptions at airports and on the roads, while subzero temperatures caused deicing fluid to freeze solid leaving many planes unable to fly.
Southwest's CEO apologized for its failures and promised refunds for passengers whose flights were canceled. Transportation Secretary Pete Buttigieg threatened the airline with fines of up to tens of thousands of dollars per violation should the airline fail to meet any federal requirements or take too long to reimburse passengers.
Promising "to go above and beyond" Jordan offered reimbursements for stranded customers. "We'll be looking at and taking care of things like rental cars, hotel rooms, meals, booking customers on other airlines, so that will all be part of what we're covering here as we reimburse our customers and make good on this issue."
"Under the law, Southwest must provide prompt refunds when a carrier cancels a passenger's flight or makes a significant change…" Buttigieg wrote in a letter to Southwest. He specified that refunds had to be dispersed within 7 days if they paid by credit card and 20 days if they paid with cash.
Southwest has been very public about its desire to lower carbon emissions, which prompted Wall Street Journal Assistant Editorial Page Editor James Freeman to point out "an irony here. Southwest has spent a lot of time talking about and focusing on the technology of lowering carbon emissions, which is kind of bitterly ironic if you're a customer and you realize their technology couldn't get you from A to B."
Copyright 2023, BrightPress.org