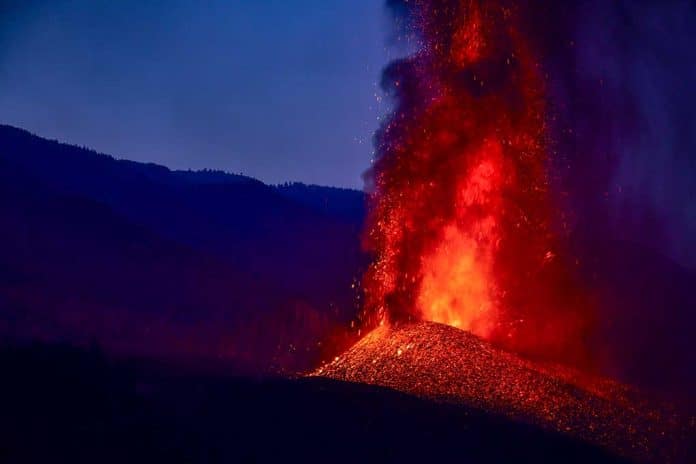 (BrightPress.org) – Volcano enthusiasts across the globe are getting a glimpse of one of nature's most powerful displays. In Hawaii, the volcano Kilauea is erupting, sending up bubbles and a flood of lava from its crater. While there's no threat to life or property in Hawaii, other areas haven't been as lucky.
The Canary Islands is a tourist hotspot off northwest Africa. Over the last month, a volcano erupted that's showing no signs of abating. The island's president said residents are at the mercy of mother nature.
There is no sign that a volcanic eruption on the Spanish island of La Palma is coming to an end — four weeks after it began. https://t.co/J0hyWv2P1k

— USA TODAY (@USATODAY) October 18, 2021
The volcano is causing incredible damage and human tragedy. While evacuations avoided any loss of life to the 85,000 people who live on the island, the volcano forced 7,000 people out of their houses and destroyed over 1,800 buildings, most of which are homes. Satellite images showed the volcano's lava covered nearly 1,900 acres of countryside and farmland. Lava has destroyed approximately 37 miles of roads. The government is promising to spend millions of dollars on rebuilding and helping people restore their lives.
In addition to the constant earthquakes and damage to structures, the volcano is covering a vast area with its ash. A plume extends several miles high into the sky, canceling airline flights into and out of the island. Over the weekend of October 16 and 17, aviation officials halted 56 flights. A volcano's ash can damage aircraft surfaces, engines and navigation equipment.
Officials can't say when the eruption will end.
Copyright 2021, BrightPress.org