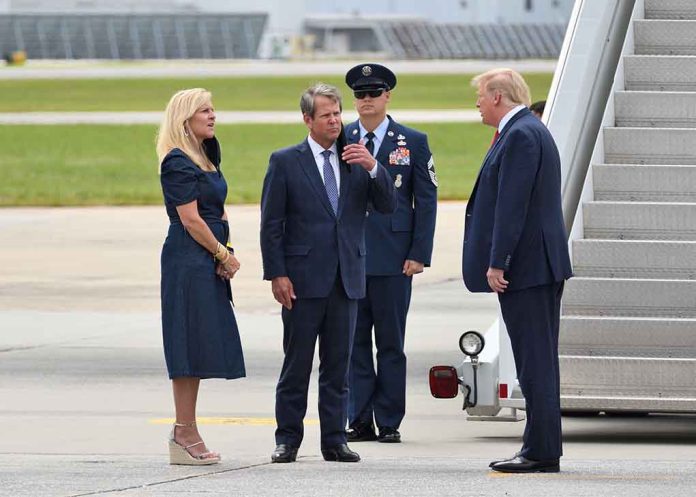 (BrightPress.org) — A Georgia-based special grand jury convened in Atlanta to investigate whether ex-President Trump broke the law when he demanded an investigation into his 2020 election loss has completed their analysis.
Fulton Country Superior Court Judge Robert McBurney said the panel was finished and created their final report on Monday, January 9th. The outcome of the investigation could impact Donald Trump's attempt at reelection in 2024.
As to whether or not the report results in criminal charges against Trump, that will be up to Fulton County District Attorney Fani Williams. Williams was forbidden from deciding whether or not to charge one of the 16 Trump electors as she was involved in a fundraiser for his Democrat opponent. If criminality is suspected in his case, another DA will have to pursue it.
A hearing is scheduled for January 24th to determine whether all or part of the report will be made public with public media agencies invited to make arguments.
Beginning their work in June 2022, the special grand jury heard from dozens of witnesses under oath, including former NYC Mayor and Trump attorney Rudy Giuliani. Sen. Lindsey Graham also testified, as well as Gov. Brian Kemp and his Secretary of State Brad Raffensperger.
This report follows on the heels of Nancy Pelosi's January 6th Committee issuing their report which unsurprisingly condemned ex-President Trump and laid responsibility for security failures leading to the riot at the Capitol at his feet. Calling Trump's actions a "multi-part conspiracy" to overturn the 2020 election results, the 18-month investigation did not elaborate on the role of the FBI, DC's Capitol Police, or The Speaker's Office in preventing adequate security that day.
The attacks on Trump by Democratic operatives for exercising his right to free speech could be considered a multi-party conspiracy, in a stunning twist of irony. Will these efforts result in charges against the former President, at the federal level or in Georgia? If so, will they impact his 2024 presidential bid?
Copyright 2023, BrightPress.org