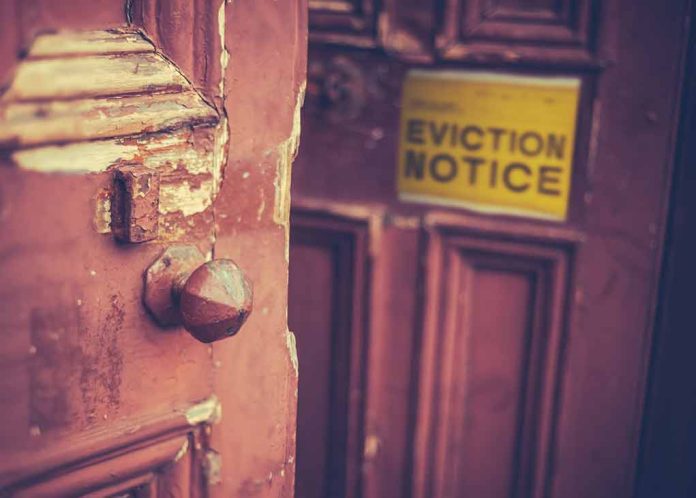 (BrightPress.org) – Ninti El Bey, 50, was recently arrested in East Charlotte, North Carolina over her failure to comply with an eviction from a home she'd been squatting in for years. She was served an eviction notice in April 2022, and it took over a year to finally serve the eviction and remove her from the property. During the eviction, she hid from the police and ultimately was arrested after punching a cop who was searching the home for her.
El Bey is a serial squatter. She had been convicted of squatting in a separate home with eight other people in 2015. The 5,200-square-foot house was in the Piper Glen neighborhood, known for being upper class. She's previously claimed that her status as a Moorish Sovereign citizen meant local laws did not apply to her. She's filed a lawsuit related to that removal.
Her neighbors in East Charlotte describe an unhinged neighbor who burns "a witch's cauldron" in her backyard and goes around the neighborhood with a bullhorn telling people to get off "my indigenous land."
During the recent eviction, she barricaded herself in a closet requiring officers to break the door down. They also had to pepper spray her and physically remove her from the property. No word on what happened to her children.
El Bey was arrested on Thursday, July 13th, and charged with trespassing, resisting arrest, and assault on an officer, according to court documents.
The Southern Poverty Law Center (SPLC) describes the Moorish Sovereign Citizens movement as an offshoot of the Sovereign Citizens movement. These are individuals who believe the laws do not apply to them. The Moorish offshoot believes that their status as African Americans confers special rights and privileges that exempt them from the law.
Multiple individuals have tried this rationale before. They also frequently engage in violent behavior directed at law enforcement. In June 2017, a Knoxville man who believed himself a sovereign citizen bit off the end of an officer's thumb.
Copyright 2023, BrightPress.org