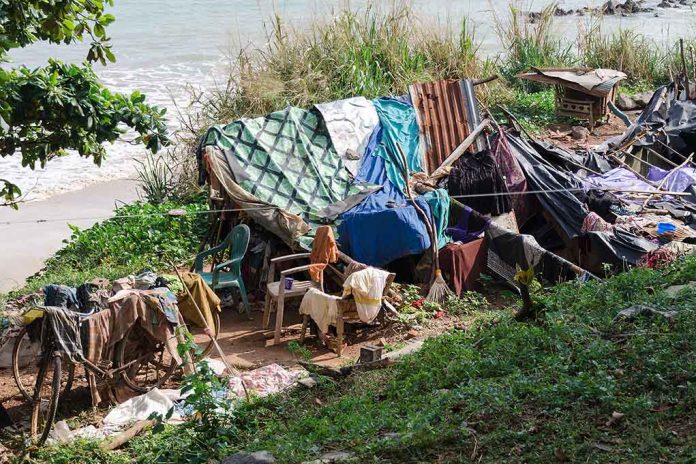 Famous Country OUT OF FUEL – End Of Week Emergency!
(BrightPress.org) – Over the last several weeks, peaceful protesters took to the streets all across the island nation of Sri Lanka. On Monday, May 16, National File reported that violent threats were on the rise due to low fuel supplies. There was only enough gasoline across the nation for a single day, according to reports.
On Wednesday, Reuters said that Sri Lanka was about to default on bonds, and the energy minister said the country was out of money to pay for fuel.
Sri Lanka is down to its last day of fuel, as the country grapples with its worst economic crisis in decades.

It needs $75M in foreign currency for basic imports, said the new PM.

Last week the ex-PM resigned and fled the country during protests that killed 9 and injured 300+. pic.twitter.com/kCjJutYYcz

— AJ+ (@ajplus) May 17, 2022
According to Reuters, Power and Energy Minister Kanchana Wijesekera informed the parliament that the country of nearly 21.5 million people was out of money and couldn't afford to pay for gasoline shipments. A supply ship full of gas has sat ready to unload at the port in Colombo, the country's largest city, since March 28. Since the government can't afford to pay for the shipment, the fuel has remained on board the massive ship. Wijesekera said the country might not be able to secure credit for the gasoline but hoped it could be offloaded sometime after the upcoming weekend.
Sri Lanka was hit particularly hard by COVID-19. The pandemic caused a dramatic drop in tourism that the island nation depends on for its livelihood. In addition, rising oil prices and past tax cuts have harmed the economy, which is experiencing massive inflation and a lack of critical supplies. As a result, thousands are protesting against the government.
Will there be a solution to the crises?
Copyright 2022, BrightPress.org