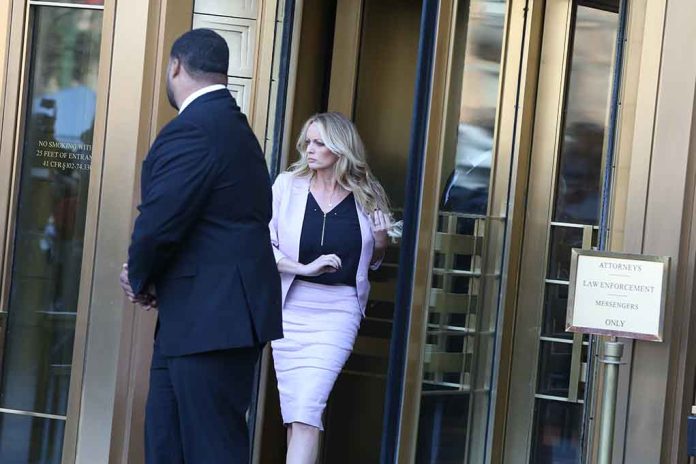 (BrightPress.org) – On the same day former President Donald J. Trump was arraigned in a Manhattan court on 34 counts of 'felonies' the U.S. Ninth Circuit Court of Appeals awarded him $121,962.56 in legal fees to be paid by adult film star Stormy Daniels. That makes the grand total almost three-quarters of a million dollars that she owes him, as she lost another case to him last year that resulted in the $500 grand award. 
The awards stem from a lawsuit deployed by the adult film star and her then-lawyer Michael Avenatti. Avenatti was convicted of stealing nearly $300,000 from an advance paid to Stormy Daniels for her book "Full Disclosure" in June 2022. He will serve a four-year prison sentence, or get out early on parole for that crime. The judge assigned to the case called his behavior "craven and egregious." He was already locked up over his 2020 conviction in an extortion case involving Nike. 
A defiant Daniels pledged last year to go to jail before paying the debt. 
Trump has repeatedly denied the claim that they ever had intimate relations, though that does beg the question as to why Michael Cohen paid her off to the tune of $130,000. Interestingly, both attorneys involved in the matter have been or currently are in jail. 
Cohen was convicted in 2018 of a laundry list of misdeeds including five counts of tax evasion for failing to report $4 million in income from 2012-2016, one count of lying to a bank to secure a loan, a violation of campaign finance law for his part in paying off Stormy Daniels, and one count of lying to Congress. He was ordered to pay $1.4 million in restitution in taxes, and $500,000 for lying to a bank, as well as two $50,000 fines, and three years in jail.
Famed lawyer and Harvard professor emeritus Alan Dershowitz shredded Michael Cohen's credibility as one of the star witnesses in the New York case against Trump. Indeed, when someone is convicted of so much deception, it boggles the mind how they could be considered a witness in other matters. Dershowitz additionally lambasted the leaking of the 34-count indictment early, a felony of which District Attorney Bragg may himself be guilty. 
Copyright 2023, BrightPress.org