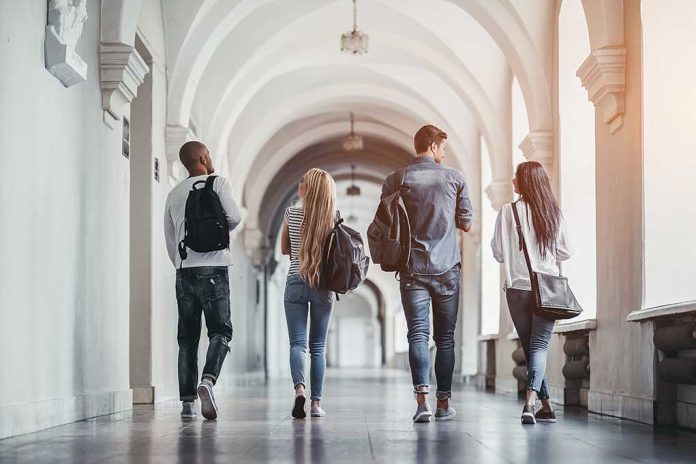 (BrightPress.org) – There was a time when colleges believed freedom of speech and thought were vital to a good education. Today's higher education seems to have taken a different stance. In fact, many colleges are more "woke" than tolerant.
On October 1, Emerson College suspended a conservative group and several students for handing out stickers that said, "China kinda sus," and another that featured a hammer and sickle. The group says they were critical of the Chinese communist government. The school administration claims the actions were racist.
Report: College Students Under Investigation For "CHINA KINDA SUS" Stickers https://t.co/KAD02b4paF pic.twitter.com/Zcp5vyMdsp

— Daily Wire (@realDailyWire) October 6, 2021
According to the college, the group leaders violated community guidelines. The Foundation for Individual Rights in Education (FIRE) wrote it was concerned about Emerson's overreaction to the stickers. Members believe the response punishes conservative students for expressing a political belief about a foreign government. The school says it condemned bigotry against Asians.
Turning Point USA – Emerson posted an Instagram video scrutinizing the school's position. It said the purpose of the sticker wasn't to criticize any Asian culture or individuals. It was a political statement criticizing the Chinese government.
What if the sticker design had replaced China with a European nation? Would the message still be considered racist or intolerant? FIRE and others are demanding answers.
Copyright 2021, BrightPress.org