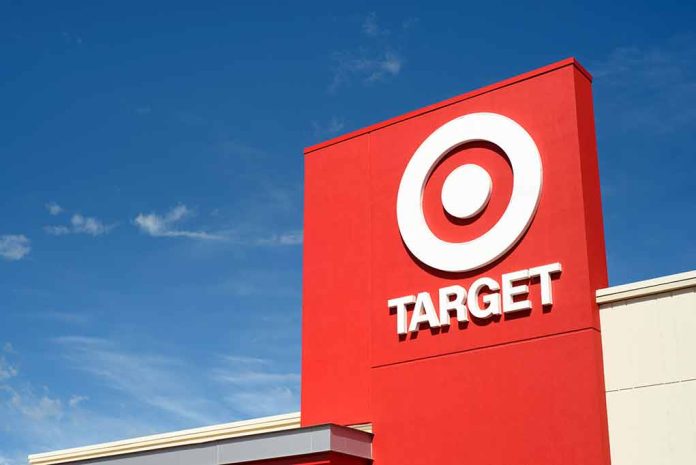 (BrightPress.org) – Target is under fire in a lawsuit by conservative firm America First Legal representing shareholder Brian Craig. Craig spent $50,000 on Target stock in April 2022, purchasing 216.5 shares of the company. America First Legal is a non-profit led by former Donald Trump adviser Stephen Miller. The value of those shares is now under $30,000, a startling loss due in whole or in part to Target's disastrous family-themed pride campaign which triggered national boycotts of the brand.
The pride items included "tuck-friendly" underwear for children which are designed to help boys conceal the presence of their penis should it make them feel uncomfortable. Another t-shirt reads "Live Laugh Lesbian," while one of the books sold by the retail outlet was titled "Twas the Night Before Pride."
The backlash was so quick and intense that some stores removed the items entirely while others put the displays in the back of the stores instead of right at the entryway.
Lawyers with AFL have accused Target of making "false and misleading statements" to its investors regarding their diversity, equity, and inclusion (DEI) policies and attempts to garner higher environmental, social, and governance (ESG) scores. In doing so, they violated their requirement to keep their investors informed and thus able to make financial decisions about the company as well as their fiduciary duty to make good financial decisions for the company on behalf of investors.
Their lawsuit alleges that Target misled investors to support the board while it made disastrous decisions ultimately costing the company tens of billions in lost stock value, which negatively impacted investors like Brian Craig.
Vice President and lawyer for AFL Gene Hamilton pointed out in a press release that Target had violated the 1934 Securities and Exchange Act by refusing to give true and accurate information to its investors. Company share price has continued to decline with no end in sight. In August 2023, Target's stock price is down 4.7% with a total loss of 15.8% for the year so far.
Copyright 2023, BrightPress.org