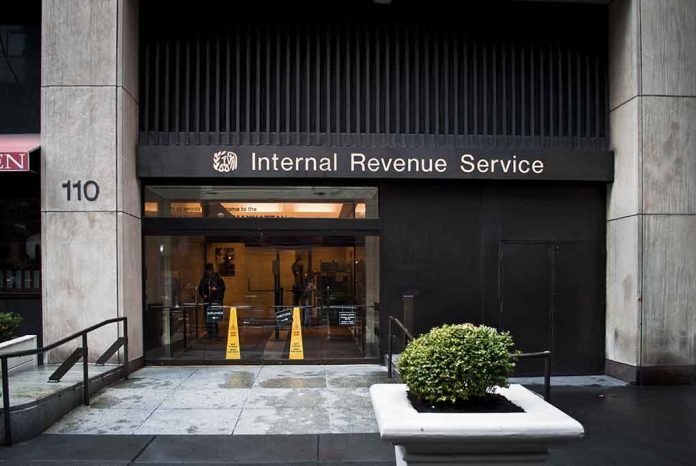 IRS RAIDS Top Tax Firm – Now We Know Why
(BrightPress.org) – Considered by many to be at or near the top of businesses in the accounting world, Alliantgroup specializes in numerous areas of tax law. Influential former IRS leaders, including the agency's former commissioners Mark Everson and Steven Miller, have worked for the company. In addition, former Sen. Heide Heitkamp (D-ND), three former members of the House of Representatives, and two governors served on the company's advisory board. Still, that wasn't enough to stop the IRS from launching an investigation into the company.
On Friday, May 20, the IRS raided the company's headquarters in Houston, Texas. Federal agents seized several computers. Video allegedly taken during the raid shows federal agents directing employees to retrieve their personal belongings and informing them the offices would be closed until the search was completed.
@KHOU @alliantgroup is getting raided by IRS right now…. seizing laptops. pic.twitter.com/z6N0FKsiNF

— Michelle (@michellesezzz) May 20, 2022
The reason for the investigation is unknown. AccountingToday.com reported that the cause for the IRS' action might relate to the company securing tax credits and incentives for clients, which the federal agency contested.
Over the years, Alliantgroup has developed quite a reputation among former employees. One told accounting company watchdog site GoingConcern that the company severely overcharged billing hours to clients and overworked employees. Another former worker said the company forced them to justify taking lunch away from their desks. One time, the person stated the company laptop started on its own in the middle of the night prompting them to leave it in their car every night. Additionally, the company allegedly forced employees to disclose which peers weren't culturally aligned, and if they didn't, company leaders threatened their future promotions.
The company claims it is fully cooperating with the IRS investigation.
Copyright 2022, BrightPress.org