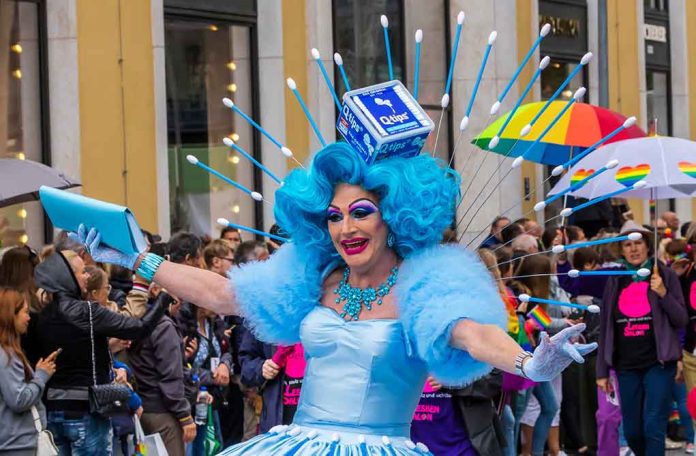 (BrightPress.org) – Republican Governor Bill Lee is promising to sign Tennessee's new bill explicitly banning adult entertainment, such as strippers, exotic dancers, and topless dancers, as well as "male or female impersonators," as well from appearing before any audience that includes minor children. The left's attempts to thwart the bill from becoming law now include parading a picture of Governor Lee taken while he was in high school wearing drag. Lee called comparisons "ridiculous."
While the bill does not explicitly define or use the term "drag show" it does qualify "male or female impersonators" as adult cabaret entertainment that is "harmful to minors" and bans any such activity from public property or anywhere children could be expected to see it, such as at school.
During a public Q&A session, one of the reporters asked Lee if he recalled "dressing up in drag in 1977." The photo first appeared on Reddit over the weekend, which suggests reporters don't even do their own research these days. Visibly upset, he called the question "ridiculous" and continued lamenting the attempt to conflate high school shenanigans with exposing minors to adult content.
When asked about specific examples, Lee pointed to a nearby school and implied "in that building" children were exposed "to obscenity, and we need to make sure that they're not."
Many gay men and women are standing up and speaking out against performing this type of entertainment in front of young audiences. Gays Against Groomers is a voluntary coalition of adults regularly speaking out against a variety of issues, including drag shows for kids. Their representatives include "detransitioners," or folks who began a medical transition – sometimes referred to as "gender affirming care" – and later came to regret the decision, as well as loud and proud gays and trans people who did not desist.
Some have called it an infringement on their First Amendment rights. When asked why it's so important for children to be exposed to these activities, proponents often fail to offer meaningful justification and prefer instead to lash out at individuals who oppose their radical gender ideologies.
Copyright 2023, BrightPress.org