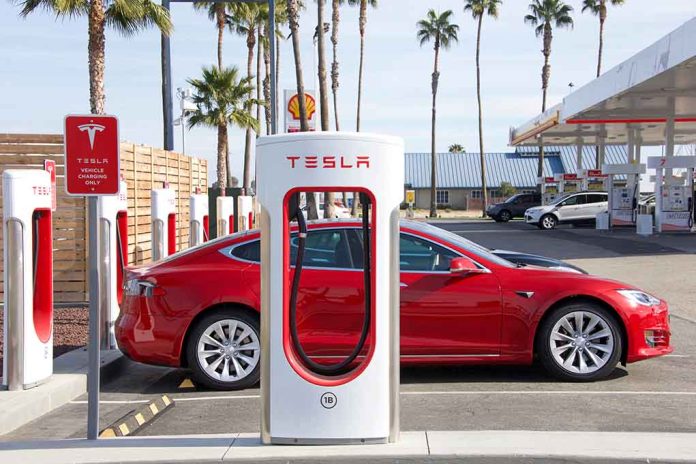 Electric Vehicle Maker Begs Customers To Not Charge Their Own Cars
(BrightPress.org) – Texas is enduring an oppressive heat wave with temperatures over 100 degrees. On Wednesday, July 13, the Electric Reliability Council of Texas (ERCOT) reported it was taking emergency measures to protect its 26 million customers across the state. The state's electric grid operator said it's trying to avoid rolling blackouts as demand for power could outpace supply. Soon after, Tesla asked state residents to do something to help reduce the burden on the grid.
Tesla asks Texans to avoid charging their EVs during peak times because of the heatwave https://t.co/LuQv1n8fct pic.twitter.com/B1DUm44nAs

— The Verge (@verge) July 13, 2022
The electric car manufacturer asked its customers in Texas not to charge their vehicle batteries during peak electricity usage times from 3 p.m. to 8 p.m., for the second time this year. The company said that would help ERCOT manage demand and avoid blackouts. Making matters worse for the electric distributor, the massive heat dome overhead has cut off the wind, halting electric generation from windmills. Wind power creates approximately 25% of the state's electricity.
The Verge reported that Tesla sent notices to screens in vehicles warning of the heat wave. Over the last decade, Texas has evolved its electric generation sources to include more renewable energy. The founder of Power the Future, Daniel Turner, told The Daily Wire that renewable energy issues are an ongoing problem. He said capacity is uncertain due to changing weather. If it's cloudy, solar doesn't work. If the wind doesn't blow, windmills don't turn. He said green energy sounds good until it impacts your day-to-day life.
So, will Tesla's encouragement to charge during off-peak hours help ERCOT?
Copyright 2022, BrightPress.org