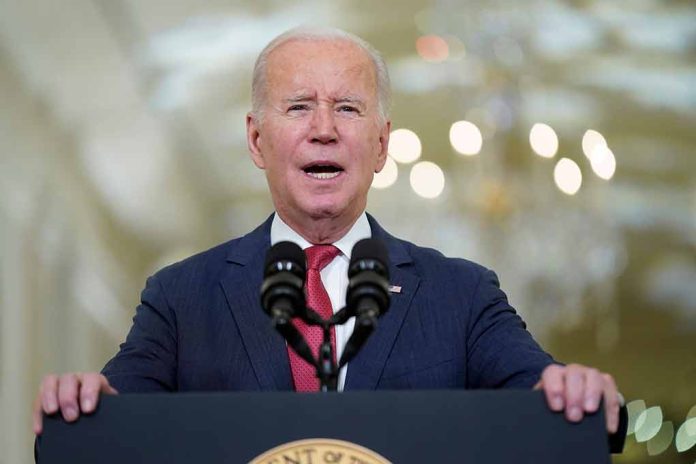 (BrightPress.org) – A mass shooting over the weekend in Texas is resulting in renewed calls for gun control after 20 people were shot, many of them dead at the scene. A suspect opened fire in a "gun-free zone" in Allen, Texas. He was killed by police at the scene and was identified as 33-year-old Mauricio Garcia.
Allen Premium Outlets was attacked by Garcia on Saturday, May 6th. He was armed with a semi-automatic rifle and pistol, police found additional weapons in his vehicle. Investigators are suggesting he espoused neo-Nazi beliefs and was an "incel" – short for involuntarily celibate. Garcia is visibly Hispanic and is alleged to have joined a neo-Nazi group and posted numerous white supremacist materials on social media, according to an FBI report reviewed by Rolling Stone. He was also in the military, but left in 2008 amid "mental health concerns." 
Mental health again seems to be an issue when corporate media prefers to blame racism or gun rights activists. 
The White House was quick to issue a statement condemning the attack while reiterating Biden's support for gun control. Biden's statement said that red flag laws and "assault weapons" bans are "not enough." Using the tragedy as a prop for Democrat talking points, Biden "once again" asked Congress for a bill "banning assault weapons." 
The term "assault weapon" has no official definition, but typically includes modern semi-automatic rifles with a standard 30-round capacity. Biden referred to those as "high capacity magazines" in his statement. He also wants universal background checks on gun purchases (which is already the standard nationwide barring very specific exceptions), requirements for "safe storage," and an end to legal immunity for companies that manufacture guns. 
Conservatives pointed out that these measures wouldn't prevent determined criminals from illegally acquiring weapons. For example, while Biden and the FBI were working hard with major media, including Rolling Stone magazine to get the story out about the shooting in Texas, 20 people were shot in Chicago over the weekend, including a police officer who had just got off duty. Additionally, the current tally for homicides in Chicago is at 174 for the year, when will the President be issuing a statement on that situation? 
Copyright 2023, BrightPress.org