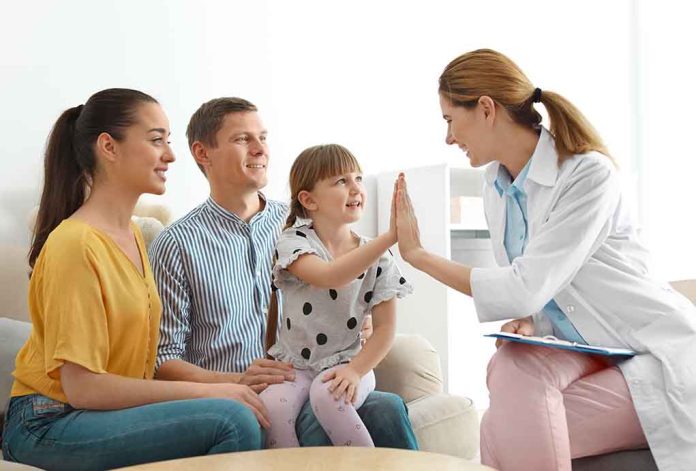 (BrightPress.org) – The "Texas Millstone Act" was introduced in the Texas House of Representatives by Rep. Tony Tinderholt on March 10th. House Bill 4754 would make gender transitions or any associated medications unavailable for anyone under the age of 26. It's modeled after a similar bill in Oklahoma called the "Millstone Act of 2023." That law was amended to allow the procedures for folks over the age of 18.
Oklahoma was the scene of chaos when the bill was under discussion. Many activists invaded the state capitol, resulting in one arrest for violent, unruly behavior. That individual was not charged with insurrection, nor will they be held for years without a trial. The American Civil Liberties Union (ACLU) and Lambda Legal made threats to sue if the bill became law in the state.
In true leftist fashion, the reversal of truth can be seen in the rhetoric activists use to defend this abuse. Omar Gonzalez-Pagan is a lawyer for Lambda Legal who suggested the legislation was "selectively target[ing] a population," when that is precisely what teachers and other activists posing as such have done with children in the government school system. They've indoctrinated kids with bizarre ideas, and then when parents stand up and say "no more," they throw hysterical fits in public while using children as human shields.
Both Oklahoma and Texas bills will make the medical abuse of children punishable by law, classifying the crime as a felony. It also opens up legal avenues for detransitioners to sue the doctors who harmed them and restrict public funding and Medicaid for the institutionalized medical abuse of young people which they call "life-saving, gender-affirming care."
The name of the bill comes from a Bible verse, Matthew 18:6 where Jesus suggests anyone who causes children to sin should have a millstone hung around their neck and dropped into the ocean to drown. The idea is that using children for your political or social agenda is wrong, and folks who engage in the practice should be punished, such as doctors who facilitate the medical abuse of the next generation.
Copyright 2023, BrightPress.org