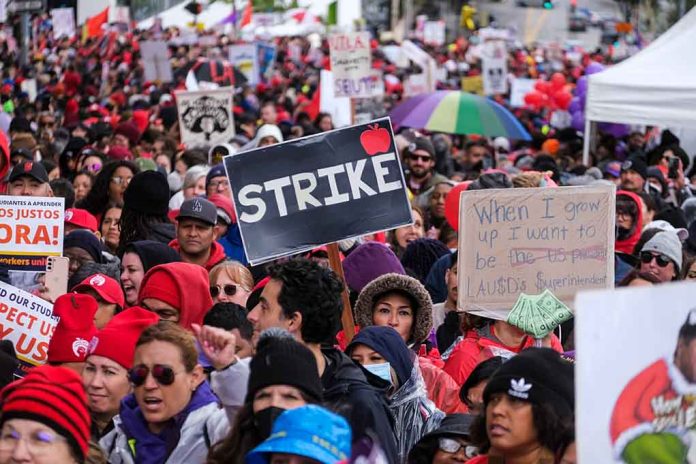 (BrightPress.org) – California Governor Gavin Newsome has not weighed in to comment on an ongoing strike that has had Los Angeles public schools shuttered for three days. The nation's second-largest school system is home to over half a million kids and was also shut down Thursday as part of their planned three-day strike.
Los Angeles Unified School District officials failed to reach an agreement with SEIU Local 99, the local union for auxiliary staff. SEIU Local 99 represents 50,000 employees, everything from teachers to cafeteria staff to educational assistants, custodians, and bus drivers. Executive Director Max Arias called their salaries "poverty wages" – an average salary of only $25,000 per year. The district cannot operate without them.
The union has some interesting priorities. For one they want a pause on educator evaluations "during this unprecedented time." Do they think we're still in a pandemic? For another, they want a raise. Granted, with an average salary of $25,000/year and a lot of part-time employees, there's certainly room for improvement there.
They're also asking for a "Continuity of Learning plan with options for educators." More Zoom classes in the future the next time little Johnny gets a sniffle, perhaps.
Los Angeles Mayor Karen Bass made sure there were to-go meals available for families impacted by the closures, as many LA residents rely on the school system to feed their children.
Governor Newsom has avoided involving himself in the dispute, but he's "getting updates" according to a report in the New York Times. He failed to respond to a request for comment from Fox News Digital, however.
Newsom has been focused on California's growing homelessness issue, announcing this week his plan to spend $30 million taxpayer dollars to build 1,200 "tiny homes" across the state. Will it work? Newsom has approved over $22.3 billion in spending to tackle the homeless problem and it seems like it's only getting worse. What's another thirty million, right?
Copyright 2023, BrightPress.org