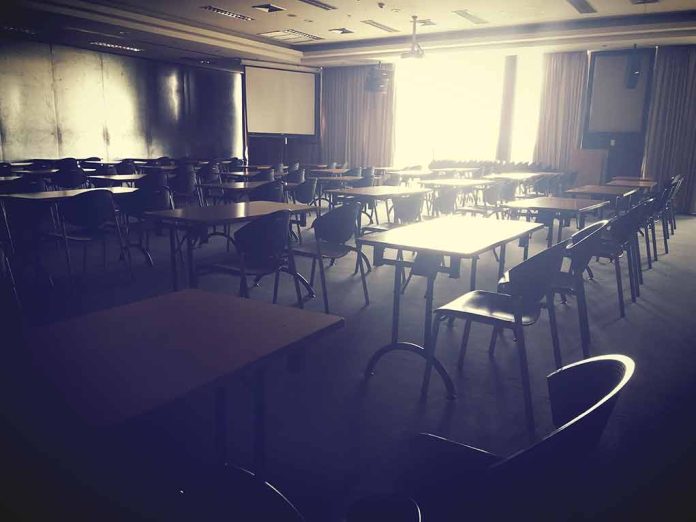 (BrightPress.org) – A public school teacher from California was arrested on statuary rape charges after her indecent relationship with a 16-year-old male student was discovered. Tracy Vanderhulst, 38, was taken in by police with the San Bernardino County Sheriff's Office after they investigated allegations and found sufficient cause to warrant the arrest.
Vanderhulst had been with the school since 2013 and was recognized as "Teacher of the Year" in 2017. A quote from a local paper described her as "kind and innovative" who "strives to engage" her students regardless of their achievement level, perhaps that choice of words is a little awkward in retrospect. 
The math teacher was booked into the San Bernardino Central Detention Center with bail set at $30,000. Detectives are asking the public for help, they believe there may be additional victims and have released her mugshot along with their statement describing her arrest. 
Schools seem to be surpassing the Catholic Church as the most likely place to find a child predator. There have been numerous disturbing cases in recent years where teachers have been caught abusing the children in their charge for their own self-gratification. 
One teacher from North Carolina was caught yet again with juveniles. Elizabeth Bailey, 37, was originally arrested and charged in August 2022 on felony statutory rape of a minor 15 years old or younger in addition to dozens of other charges which followed by October. 
Despite having already violated her pre-trial release conditions once and being let go until her trial, she was arrested yet again on May 20th for having a child crash her car and flee the scene. She had been in the passenger seat, drunk, and asked one of the children (there were two with her) to drive, despite him being unlicensed, according to statements she gave to police at the scene.
Another North Carolina teacher and basketball coach was charged with multiple counts of first-degree statuary rape, indecent liberties with a child, and solicitation of a child among other charges. 
Parents should maintain open lines of communication with their children, because there are adult predators constantly lurking to find children victimize, and they tend to seek out jobs working with kids.
Copyright 2023, BrightPress.org