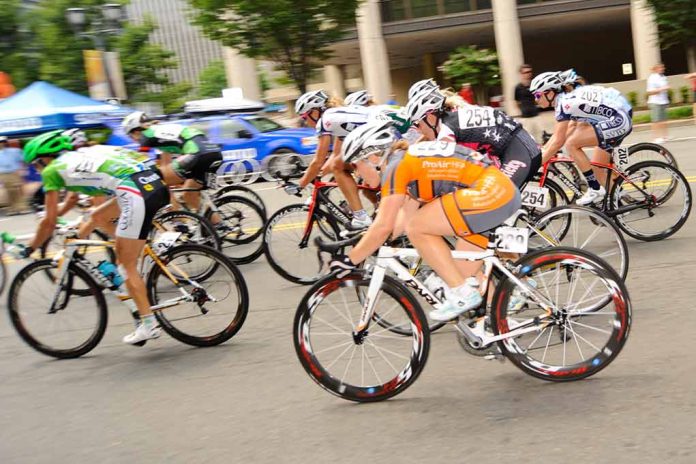 (BrightPress.org) – A transgender individual who has won several women's bicycling competitions is now complaining that trans "women" are "underrepresented" in women's athletics and further decried the "nature" of the discussions surrounding biologically male athletes who compete as women. A glowing endorsement from the Knoxville News Sentinel sympathetically outlined the "difficult and frustrating" backlash that Austin Killips experienced after winning the Tour of the Gila in April.
Killips placed 9th in a recent race in Knoxville, competing on a nonprofit team called Nice Bikes that was organized to support LGBTQ+ athletes. The piece then outlined the official position of Union Cycliste Internationale (UCI), which is the international governing body for bicycling competitions. UCI claimed its rules are "based on the latest scientific knowledge" and that they apply them "in a consistent manner." They also left themselves wiggle room to change them in the future to concur with the "evolution" of science on the subject.
Currently, they allow male-to-female transgender athletes to compete as long as their testosterone is below 2.5 nmol/L for 2 years before the competition. UCI will revisit the issue in August during their next meeting in Glasgow, Scotland, to discuss concerns from female athletes and maintaining an "equal playing field."
Killips earned critique after he dominated a previous race, beating the 2nd place runner-up with a lead of five minutes. The Independent Women's Forum (IWF) held a rally about a mile from the finish line. The event was held across the street from the Pat Summitt Statue on the University of Tennessee campus, and organizers said the location was symbolic. Summitt was an accomplished female basketball player and coach who earned 1098 career wins before she died in 2016.
NCAA swimming champ Riley Gaines and three-time Olympic cyclist Inga Thompson were both in attendance, along with Payton McNabb. McNabb is a teenager who was brutally injured when a male-to-female transgender athlete spiked a ball so hard it the impact gave her a concussion.
The ladies were firm in their belief that women's sports should be reserved for biological women, suggesting the entire reason it exists apart from male athletics is to maintain an equal playing field due to differences in physical strength.
Copyright 2023, BrightPress.org