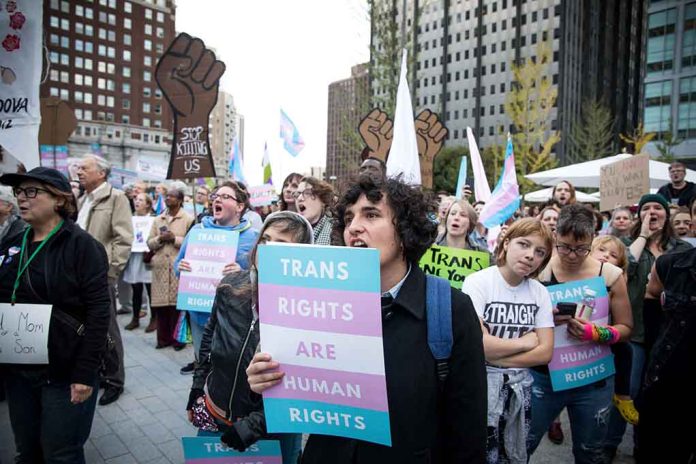 (BrightPress.org) – Radical gender-bending activists and their allies will invade D.C. outside the Supreme Court on April 1st in what organizers are calling a "Trans Day of Vengeance." The irony of hosting their event, which claims to be in opposition to an alleged ongoing trans genocide, on April Fool's Day was apparently lost on them.
Activists from Our Rights DC, Trans Radical Action Network, and other local similar organizations claim their protest is to "stop trans genocide" and increase awareness of trans issues. Trans Radical Network is an organization led by Noah Buchanan, a transgender man, in collaboration with Tsukuru Fors, a non-binary activist.
They've advised their flock to wear a mask and bring friends. They'll be doing additional action on March 31st as well. In a tweet promoting the events, Fors thanked Our Rights D.C. Buchanan has been promoting the events with videos on TikTok featuring trans individuals sharing their stories.
Our Rights DC clapped back at folks who pointed out the interesting choice of hosting the event on April Fool's Day as "transphobes." They also locked down their Twitter account, possibly to avoid any additional jokes at their expense.
D.C. is a deep blue city, and they'll undoubtedly welcome the Trans Day of Vengeance folks, but will it be a peaceful celebration of "the gender spectrum," or will it get out of control?
When it comes to these events, there tends to be loud vocal support for and against the idea of gender transitioning. The issue is even tenser when it comes to minors. Their side believes that if these kids with mental health issues do not immediately receive access to gender-affirming treatment, they will self-harm. Their critics suggest that there was no epidemic of youthful self-harm five minutes ago, so why is it suddenly such a desperate issue?
With many adult gay men speaking out against things like Drag Queen Story Hour and gender transitioning for minors, the only thing that's obvious is that these issues will not be resolved any time soon.
Copyright 2023, BrightPress.org