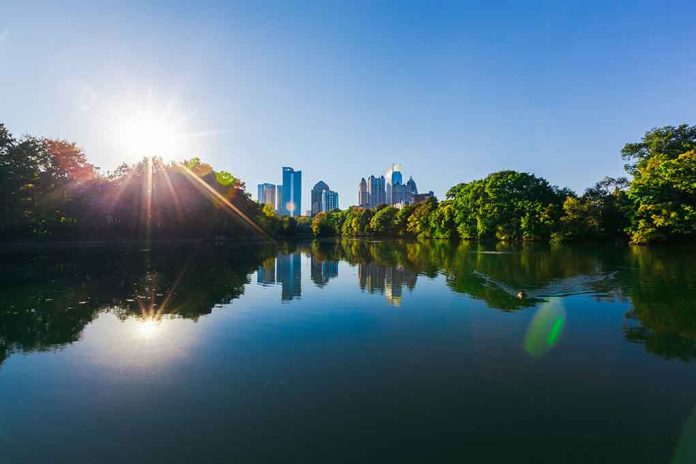 (BrightPress.org) — A gunfight between police and a group calling themselves Forest Defenders in Georgia resulted in one dead defender and one officer in the hospital. The battle over the planned Atlanta Police Department Training Facility has been ongoing for months as activists are upset at plans to clear 300 acres of a forest in order to build the facility which will be used to train future police officers.
The group dubbed 'Treehouse Antifa' by right wing media was occupying the woods with make-shift structures, literal treehouses, in order to prevent the clear-cutting. Many were arrested over the last few months for crimes like the destruction of property, arson, as well as physical assaults and car-jackings of officials and other locals.
Georgia Department of Public Safety Colonel Chris Wright explained that the officers returned fire after being fired upon and the suspect was killed in the exchange. Georgia police and other authorities are actively investigating this new escalation in the conflict.
The radicals called for retaliation. "A CALL FOR RETALIATION" the tweet invited readers to engage in a "night of rage" and "reciprocal violence" "in order to honor the memory of our fallen comrade." The idea of engaging in more violence to celebrate the violent end of a young person's life seems counterproductive.
Allies and activists went out Wednesday night, January 18th, to protest the death in the nearby town of Little Five Points. They crowded public streets, blasted slogans over megaphones, and held a vigil. The unidentified man was shot during a gunfight earlier that morning. One police officer was also shot and is in the ICU recovering as of Thursday.
Conservative writer and Antifa critic Andy Ngo was quick to point out that activists involved were using Twitter to raise money to support the violence in Georgia.
Georgia Gov. Brian Kemp issued a statement condemning the violence and promising to bring criminals to justice.
Copyright 2023, BrightPress.org