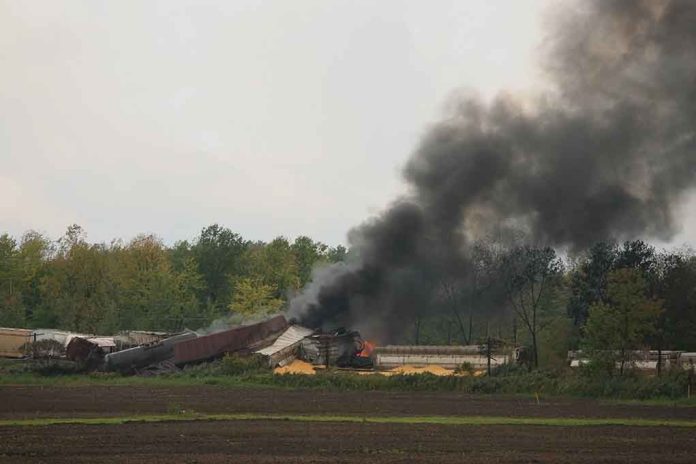 (BrightPress.org) – While Biden was in Europe drumming up support for Ukraine, former president Donald Trump visited East Palestine, Ohio, and brought with him trucks stacked full of bottled water. The small Ohio town was the site of a disastrous train derailment which led authorities to investigate a toxic spill and subsequent burn of the chemicals that launched a dark cloud of contaminants into the surrounding air and water.
In an exclusive with Breitbart News, Trump spokesman Steven Cheung pointed out that Trump was there trying to help while the federal government "failed them from the beginning." CEO of Blue Line Moving, John Rourke, told Breitbart that his company brought 13 pallets of bottled water – or approximately 14,000 bottles.
Rourke mocked Biden and Buttigieg, telling them to "stay away" while "the real President is here." He further pointed out that the Biden administration seems more concerned with Ukrainian pensions than the health and safety of American citizens.
Neither Buttigieg nor Biden have visited the site, where on February 3rd, a cargo train operated by Norfolk Southern derailed after a mechanical failure. Authorities opted to crack open the tankers and burn the majority of the toxic chemicals instead of a much more expensive cleanup operation. Residents were evacuated for five days and upon their return many found bizarre chemical residue coating their property and waterways, and claimed the air smelled funny.
East Palestine Mayor Trent Conaway called Biden's Ukrainian priorities the "biggest slap in the face" yet as they continue to struggle with the aftermath. Ukraine has been provided with approximately $113 billion, while it was a struggle to even get FEMA to show up in Ohio. White House officials claimed the disaster was not within the purview of FEMA, but apparently, someone changed their mind.
Regardless of why the Democrats seem uninterested in supporting American families impacted by an ecological disaster, Republicans like Trump are willing to take up the proverbial banner and attempt to mitigate some of the damage. Authorities claim the air and water are safe in East Palestine, while skeptics recall they said the same thing about New York City after 9-11.
Copyright 2023, BrightPress.org