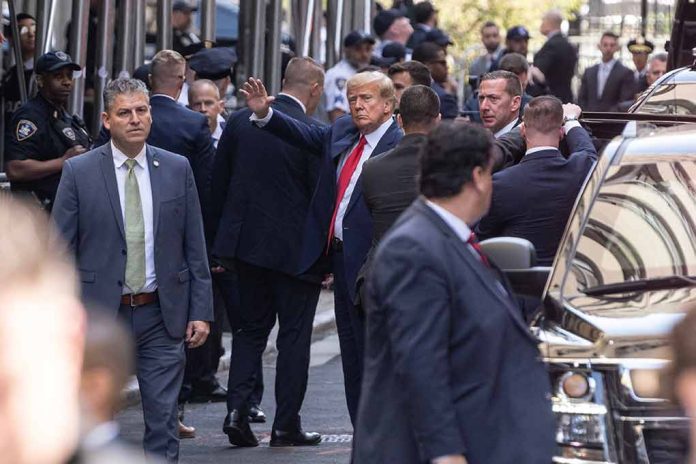 (BrightPress.org) – President Donald Trump was unable to secure new legal counsel before his arraignment on Tuesday, June 13th in Miami. Instead, he'll be represented by lawyers already attached to his legal entourage in the classified documents matter.
Former federal prosecutor Todd Blanche and the former solicitor general of Florida Chris Kise will represent him in the case. Trump's valet Walt Nuata is also listed as a co-defendant in the matter and will be represented by another lawyer, Stanley Woodward.
Trump and his team attempted to retain more legal talent going into the 3 pm arraignment. They interviewed multiple potential lawyers before the afternoon appearance but it did not result in any new talent joining his team, according to sources familiar with the matter.
Trump was looking for someone who specialized in national security matters and who had or could acquire special security clearances. This isn't the first time Trump has had difficulty finding lawyers who were willing and competent to defend him against the deep state. Ultimately Trump decided to have Kise act as his local attorney with Blanche appearing pro hac vice, meaning he is sponsored by Kise to practice law in Florida, where he is not licensed.
Trump and his team were spotted discussing strategy the night before at the BLT Prime restaurant inside the Doral Hotel & Resort.
The source said Trump's team had interviewed Howard Srebnick as a potential. Srebnick had expressed a prior interest in representing the former President but was ultimately not given the green light by his law partners and had to turn down the offer, per the source.
David Marcus was another potential who turned down the opportunity to defend Trump. Marcus had previously represented disgraced Florida candidate for governor David Gillum from perjury and violations of campaign law.
Several other attorneys refused to work with Trump for a variety of reasons, including professional damage to their reputations and Trump's notorious difficulty as a client who refuses advice. The crux of the matter is the President's ability to unilaterally declassify materials, which has never been challenged in a court of law.
Copyright 2023, BrightPress.org