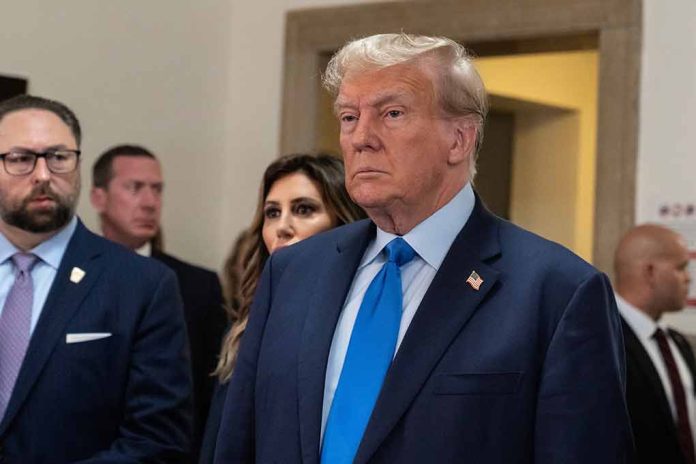 (BrightPress.org) – Donald Trump's legal team had a small win in the course of his business fraud trial in New York City. The embattled ex-president was put under a gag order by the trial's judge, New York County Supreme Court Justice Arthur Engoron. The order not only forbade Trump from speaking about the case or any of its participants but likewise barred his lawyers from speaking publicly as well.
There was no such order for the prosecution, however, and New York's Attorney General Leticia James speaks about the case almost daily to the media and posts videos to her social media. In her videos, James has taken aim and Trump as well as his children after they've been made to testify.
The New York appeals court sided with the Trump legal team in their argument that Engoron's order put Trump's 'constitutional and statutory rights' in jeopardy. The gag order has been stayed on an interim basis. Meaning, at least for now, Trump and his legal team can speak out publicly and try and counter the narratives that James has been able to set with little to no opposition. Prior to the temporary stay, Engoron warned Trump and his team that he was prepared to level "serious sanctions" against them if they were to violate his order.
After the appeals court decision, Trump almost immediately took to his Truth Social account to fire away at both Engoron and James. He posted that the judge committed "fraud" by devaluing his real estate assets. He referred to James as a "racist" and cited NYC's crime epidemic. Trump also went after Engoron's law clerk, Allison Greenfield, who Trump called "crooked and highly partisan." He wrapped up his post by calling the entire trial an "obvious miscarriage of justice."
The case was brought by James alleging Trump defrauded banks and lenders by overvaluing his properties. There is no aggrieved party and no banks have made these claims, this is a case solely brought by James. Trump says the banks did their own investigative analysis and all the loans were paid back in full with interest, which is not in dispute. There is no jury in this trial, meaning Engoron will have the final determination of guilt or innocence when the trial wraps up.
Copyright 2023, BrightPress.org