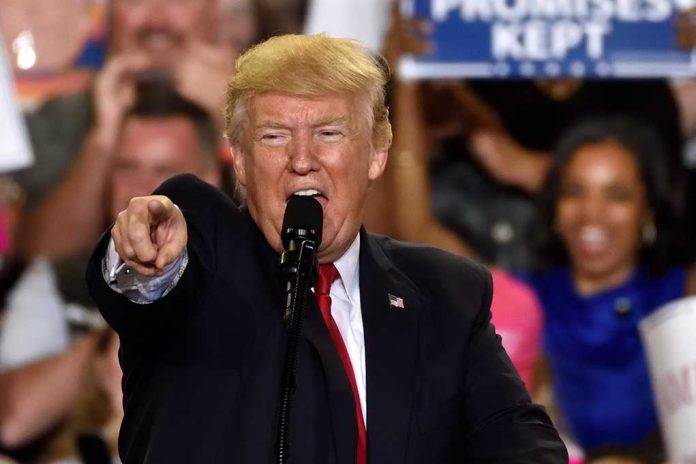 (BrightPress.org) – Trump told Newsmax host Eric Bolling on the evening of August 9th that he believed Georgia and a fourth indictment could be the straw that breaks the camel's back. In the 42-minute discussion they recorded in a Bedminster, NJ, home Trump owns, he reiterated his belief that the election was rigged against him. He also maintained that saying as much is constitutionally protected free speech that he cannot be criminally charged for.
When asked about Georgia DA Fani Williams could offer him a fair trial, he said, "No, of course not." She is convening another grand jury to inquire whether or not a phone call where Trump asked about a margin of only 11,000 votes was election interference. Trump called his conversation "a perfect phone call" and explained he believed he was ahead by several hundred thousand votes in that state. He said he only asked if there were still votes unaccounted for.
Trump also suggested that the timing of her supposed indictment is curious. No new information has arisen in the last few years. She could have charged him years ago, had there been a case. The GOP primary is about to begin in earnest with the first primary debate in Milwaukee on August 23rd. Trump suggested that these allegations are entirely political and constitute election interference.
Trump compared the allegations to his first impeachment over the Ukrainian phone call where he suggested Ukrainian officials look into Joe Biden. Biden boasted about getting Ukrainian prosecutor Viktor Shokin fired for investigating Burisma, where his son sat on the board. Trump said he was correct about the Ukrainian situation after all, and that history would show he was right about the 2020 election.
Trump is currently indicted in New York concerning paying off Stormy Daniels for a non-disclosure agreement where DA Alvin Bragg hit him with 34 counts. He was then indicted twice more with multiple counts for his handling of documents he took upon leaving office in 2020. Conservatives allege that the charges against him are spurious, and solely designed to keep Trump from running around in the 2024 elections.
Copyright 2023, BrightPress.org