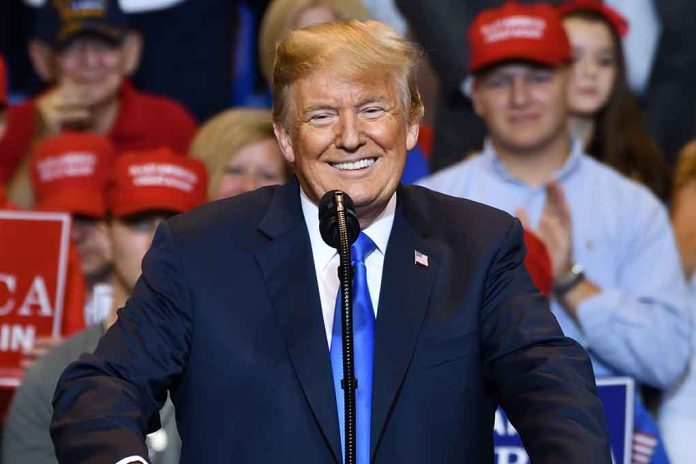 (BrightPress.org) – UFC fighter Jorge Masvidal gave Trump a shout-out during his last post-fight interview during UFC 287 on Saturday. After his loss to Gilbert Burns, the Miami-born contender announced the end of his career. He thanked everyone at UFC for their support. 
He also used the moment to give a major shout-out to Donald Trump, who was in attendance. Calling Trump the "greatest president in the history of the world" he reiterated his love for Trump while also calling Florida Governor Ron DeSantis the "greatest governor of all time." He emphasized his desire to keep Florida free by keeping it under Republican control. 
Masvidal also took the time to incite the crowd to cheer "Let's Go Brandon," a popular right-wing euphemism for "f*** Joe Biden" which they readily indulged. 
Masvidal is a well-established supporter of Donald Trump. He helped Trump during his 2020 campaign and was present at Mar-a-Lago for the post-arraignment rally. 
Contrast that with President Joe Biden who has yet to announce his formal run for the 2024 Democratic primary. During a discussion with Al Roker on Today, he hinted that he had the intention by alluding to the fact he planned to attend future Easter egg rolls, an Easter White House tradition. 
Roker directly questioned the President regarding his plans to run, to which he replied by saying he planned "on running," but that they weren't ready to make an official announcement yet. Many folks are predicting a repeat of 2020, but crucially they fail to realize that massive relocations due to the pandemic-associated lockdowns have changed the compositions of many states. 
Conservative commentator and TPUSA Founder & CEO Charlie Kirk made the point on Timcast during a recent evening podcast. In the above-linked clip, Kirk lays out the danger to Democrats: "All Trump has to do is win Arizona, Georgia, and Wisconsin and he wins the presidency, all three states he won in 2016…" Kirk explains that the migration of people into Texas and Florida has made them solid red states, which makes the challenge even more difficult for Democrats to win the needed 271 electoral votes to achieve victory.
Copyright 2023, BrightPress.org