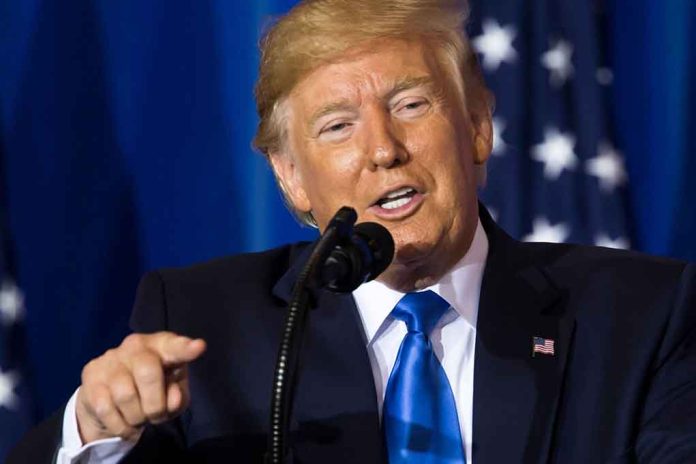 (BrightPress.org) – A defiant Donald Trump took the stage in Waco, Texas, at a rally for his supporters and to promote his 2024 bid for president. Trump mocked the New York and Georgia-based prosecutors looking for any possible excuse to indict him and potentially impede him from running in 2024 by tying him up in court.
The rally opened with the song "Justice For All" performed by a choir composed of folks who had been imprisoned for actions related to the January 6th Capitol "insurrection." Footage from January 6th was aired on jumbotrons as the choir sang, followed by a recording of Trump speaking the Pledge of Allegiance.
The rally was the first of many to come, and the first official campaign rally for Trump. His speech decried the criminal investigations as corrupt political hit jobs. He reiterated his stance that he did nothing illegal in regard to the Stormy Daniels payments. Trump also suggested that his political opponents were getting desperate and that they've tried everything to thwart him and his supporters. Claiming that they've failed and only made his position stronger, Trump promised to restore freedom to America should he be elected President once again.
Some found his choice of venue in Waco confusing, as the rally was being held also around the 30th anniversary of the 51-day standoff that led Bill Clinton's administration to launch an assault on the Branch Davidian compound. The raid resulted in the deaths of over 80 people, including women and children. Trump never referenced the tragic event during his speech, and his spokesman suggested it was to give easy access to four friendly cities in deep red territory.
However, Trump did fire off some insults at his primary competitor for the 2024 nomination, Florida Governor Ron DeSantis, who has not yet officially launched his campaign due to a sticky Florida law that prohibits him from doing so as long as he's governor.
Meanwhile, Manhattan District Attorney Alvin Bragg is claiming victim status after white powder was found in the mailroom – an alleged anthrax hoax tentatively blamed on Trump supporters.
Copyright 2023, BrightPress.org