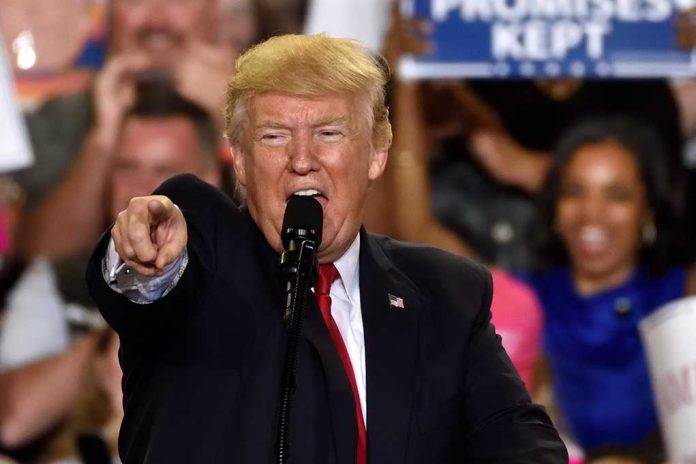 (Brightpress.org) – Donald Trump released a video response to President Joe Biden after he delivered the formal State of the Union address Tuesday evening, on February 7th. Trump's response came out after Biden wrapped up his speech, and the Daily Caller received a copy. The two-minute video rattles off all the failures of the Biden administration in a scathing critique.
Calling it the "real State of the Union," Trump ripped into President Biden. Trump lambasted the state of the southern border. That crisis not only contributes to crime across the nation, including the smuggling of fentanyl and human trafficking but is also creating mountains of debt.
Trump lamented the release of "violent killers" and other criminals from jails. He pointed out that under President Joe Biden the number of murders has hit an all-time record high.
He continued to address the inflation crisis, mentioning skyrocketing energy and food prices. He blamed Biden and his party for misusing trillions of our taxpayer dollars.
Furthermore, he accused Biden of launching a war against free speech, reminding people that Biden uses the Justice Department to target enemies of the Democrats.
Hunter Biden's lawyers (of which he has several) filed numerous letters to the DOJ in early February begging for investigations into Rudy Giuliani, the laptop repairman John Paul Mac Isaac, and other Trump allies for spreading his personal information. Isaac filed a $1.5 million defamation suit against the President's son just five days before lawyers for Hunter sent those letters to the DOJ.
Addressing the public education crisis with Marxism oozing into every classroom, Trump addressed the propaganda in classrooms and the medical mutilation of kids.
Bringing up the ongoing Ukrainian war, he accused Biden of starting a third world war and called Biden out as "the most corrupt president" ever.
Trump wrapped up his brief video, reiterating that he was running again in 2024. He said they will reverse all the damage done by the Biden administration.
Copyright 2023, BrightPress.org