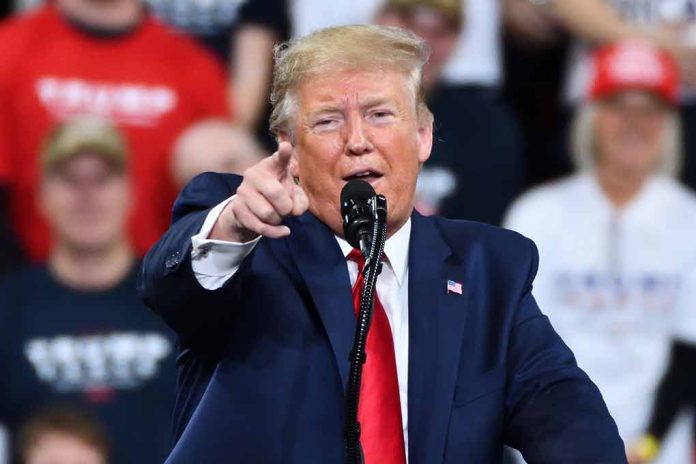 (BrightPress.org) – Calling his indictment a "sham," President Donald Trump pleaded not guilty to 37 counts against him in a Miami federal court on Tuesday, June 13th. He suggested that the Biden administration was abusing its powers to neutralize its primary competitor in the 2024 election.
Trump is currently ahead, despite a pithy attempt by Newsweek to downplay the 2 to 8-point lead Trump maintains over Joe Biden as of the latest polls.
Trump called the indictment "the most heinous" act of "election interference" ever. The charges stem from his presidential papers or records he took with him when he left office, which seems to be standard practice for every modern president.
Special prosecutor Jack Kirby is a "deranged lunatic," according to Trump. The charges against him carry a maximum of 400 years in prison. Trump spoke to a crowded audience in Bedminster, Tuesday night at Trump National Golf Club. He told the crowd that the attacks against him were something "straight out of a communist or fascist nation."
He also called Biden "the most corrupt president" of all time and suggested he was engaged in a criminal conspiracy with Marxists to destroy America.
Trump blasted Biden's DOJ for charging him under the Espionage Act, something that is reserved for "traitors and spies." He also claimed that the President has sole authority to take records with him, that there is no formal process required, and that it's all covered under the Presidential Records Act. He also outlined several other incidents where Democrats engaged in questionable handling of classified materials and were not charged.
Biden is also currently under investigation for mishandling classified documents.
Trump was impeached for asking Ukraine to look into the firing of a prosecutor investigating the company Hunter Biden sat on the board of, but no one outside of Congress has yet to investigate then-VP Biden for bragging about the illegal act of extortion.
Copyright 2023, BrightPress.org