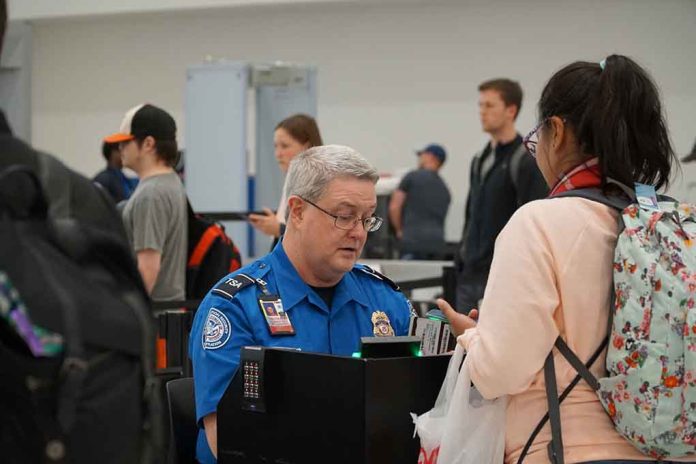 TSA Has New Plan For Passengers
(BrightPress.org) – In 2020, the COVID-19 pandemic ushered in a collapse of air travel. As Americans halted their air travel plans, airlines put many of their aircraft in boneyards, hoping they would be needed again in the near future. On October 25, 2020, one estimate said that 20% of all US airline planes, almost 1,000 aircraft, went into storage. Planes are now back in the sky, though, taking people where they want to go.
Still, travelers endured two years of masks in airports and on planes. In April, a federal judge ruled the forced wearing of masks by the government was unconstitutional, and within hours the airlines removed masking requirements for employees and passengers. As things appear to be getting back to normal for most Americans, so is air travel. The Transportation Security Administration (TSA) recently said it's planning for a busy summer season at US airports. It's gearing up for the challenge of ensuring passengers get to their destinations quickly and safely.
Travel Almost at Pre-Pandemic Levels
Over the last month, The Hill reported that the TSA screened over 2.1 million travelers, which was close to 2019 numbers. As the US heads for the summer season, which unofficially starts on Memorial Day weekend and lasts through Labor Day, TSA expects traveler numbers not seen since 2019. One estimate suggests approximately 37 million will fly this year.
If you traveled by air during the pandemic, you might have gotten used to shorter wait times at TSA security checkpoints at larger US airports. Smaller airports may have been even easier to get through. With more people traveling, that's about to change. Still, the agency plans to respond as quickly as possible to keep security wait times as short as possible.
The TSA expects 2.5 million people to fly on Memorial Day. In preparation for the traveling public's return to the sky, the agency said it developed a plan that it hopes will make things easier and less stressful for travelers. On Tuesday, May 10, the TSA revealed it had quadrupled its workforce to help improve and speed up screening operations at airports.
Wait Times of 30 Minutes or Less
In an official press release, the TSA said it had made several improvements to the checkpoint environments at airports and modified procedures to enhance screening operations. TSA Administrator David Pekoske said 47,500 highly-trained personnel and new technologies that reduce physical contact between TSA agents and the public would speed the security process up.
Pekoske said officials were monitoring when wait times at checkpoints would exceed 30 minutes or 10 minutes for those who use the PreCheck option. When the TSA predicts wait times could exceed that timeframe, they utilize volunteers from other less crowded airports to help reduce traveler wait times at busier hubs.
Pekoske said despite the TSA's efforts to make things smoother, there could still be longer wait times if conditions warrant it. He asked the public to remain patient as the TSA works diligently to get everyone where they are going safely.
Copyright 2022, BrightPress.org