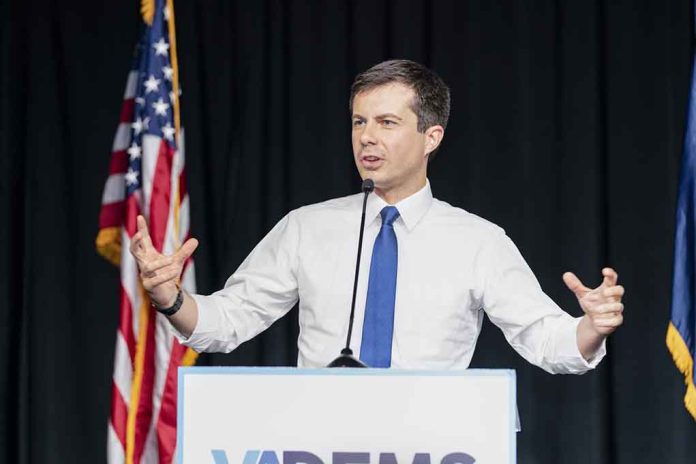 (BrightPress.org) — Tucker Carlson, infamous firebrand and Fox News talking head blasted Transportation Secretary Pete Buttigieg Wednesday, Jan 11th after a massive Federal Aviation Administration (FAA) computer glitch caused the largest grounding of air traffic since September 11th, 2001.
The problem caused over 10,000 flights to be canceled before they could repair the crucial system involved in warning pilots of potential aerial hazards. Lamenting the complete disruption of air travel, unheard of for over twenty years in the U.S. Carlson asked, "How did this happen?" on his Wednesday evening broadcast.
The system was renamed for gender-neutrality reasons earlier in 2022, though it seems more practical updates to the integrity and stability of the system weren't high on the priority list for the Biden administration.
Things seem to be falling apart all around the country while Buttigieg worries about racist roads and gender-neutral names. This is the second major disruption in less than a month as we saw major problems with Southwest Airlines over the holidays after a series of winter storms completely disrupted their ability to ferry customers across the U.S., shutting them down for several days, and stranding tens of thousands of passengers. An Amtrak auto train was stuck for over a day when a freight train derailed in North Carolina on Tuesday, the 10th.
"In April of last year, Mayor Pete noted ensuring equity and every member of the traveling public is one of the department's highest priorities," Carlson continued, mocking the fact that these superficial issues don't fix anything. He pointed out "[our problems] were not solved… they [have] become much worse."
Despite a track record of non-stop bungles, failures, and traveler irritation, the White House Press Secretary said that President Biden still has confidence in Mayor Pete during a press conference on Wednesday, the 11th.
Copyright 2023, BrightPress.org