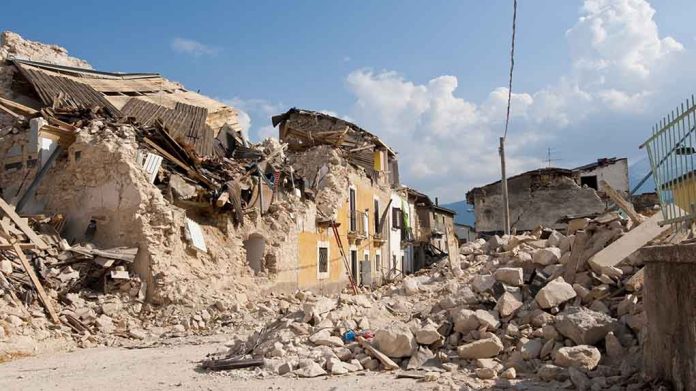 (BrightPress.org) – Two weeks after a series of devastating earthquakes and aftershocks in the region of southeastern Turkey and northern Syria, residents are still struggling to find basic needs like shelter and clean water. The natural disaster destroyed thousands of buildings and displaced millions after their homes or apartment buildings were leveled by the quakes. The survivors are reporting varied conditions, some without access to regular showers and some who fear freezing to death. More than 43,000 people were killed and that number continues to rise.
The Turkish government has deployed 5,000 shipping containers and over 200,000 tents to serve as temporary shelters, the latter posing a problem for some of the survivors, as the very cold winter temperatures in the mountain regions can't be endured with just a tent. According to officials, over 84,000 buildings were destroyed or too badly damaged to use. The Turkish side of the border was home to 14 million people. President Recep Tayyip Erdogan said 2.2 million of those were displaced, with most of them now residing in dorms or hotels appropriated to help with the refugees.
Small rural villages are the worst affected, and while they are being offered relief supplies, one resident, Umut Sitil, was reported saying the tents were not good enough, they needed containers to protect people from the deep overnight cold. Many villagers can't leave due to the needs of their livestock, or to protect their possessions. Some are still awaiting the burials of loved ones lost.
Farmers in Samandag near the Mediterranean coast lost their homes and moved into their greenhouses. The plastic-covered structures retain heat well and offer temporary shelter for folks who need to stay close to home, even in some of the hardest-hit areas. Survivors there reported a lack of access to regular bathing and clean clothes. "It's like living in the open air," said one.
Some refugees are finding shelter in industrial buildings, and small camps are popping up all over the place. It will be some time before life returns to normal for many of those impacted by the quakes, and for many, their lives will never be the same.
Copyright 2023, BrightPress.org