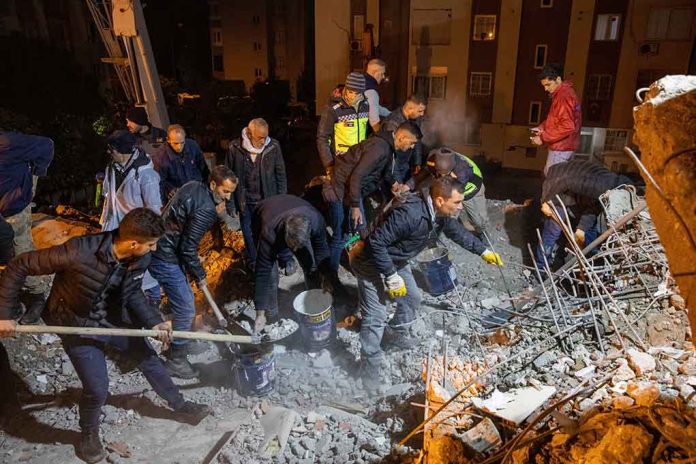 (Brightpress.org) – Turkish and Syrian rescue teams are reaching their limits as the search for survivors from the massive series of earthquakes and aftershocks hit the region early Monday morning, February 6th. The death toll topped 11,000 on Wednesday, just two days later, with officials confirming the count.
Turkish President Recep Tayyip Erdogan surveyed some of the worst-hit areas where people had erected tent cities as a temporary means of shelter from the harsh cold temperatures and precipitation. The double-whammy 7.8 followed by a 7.5 and multiple aftershocks decimated a wide area of southeast Turkey and northern Syria.
Thousands of people have joined the search for survivors and emergency response from multiple countries in the area as the window to save people trapped under the debris is closing. Without access to food, water, and medical attention, folks who are trapped or stranded will not survive. Experts like Steven Godby, a natural disaster expert from Nottingham Trent University said "the first 72 hours are considered to be critical."
Many of the dead can't be identified, unfortunately, complicating the disaster. Their remains will be photographed and cataloged for DNA and fingerprints so that perhaps in the future identification will be possible. Emergency responders used heavy equipment including excavators and tractors to navigate and sift through debris in order to locate survivors.
In one Turkish city where temperatures dropped below zero, one man watched as bodies were pulled from the rubble. He said there was "no hope left" that survivors would be found alive. Ozel Pikal is his name, and he elaborated on the difficulties locating survivors in regions that were more remote where the damage had destroyed infrastructure like roads and bridges, hampering efforts. He cited the lack of digging machinery as well as rescue volunteers as particular problems in the city of Malatya, where he was located.
Hope remains, however, as stories circulated about a three-year-old boy who was saved from a collapsed building as well as a newborn who was rescued in Syria, still attached to her dead mother by an umbilical cord. The tales of the survivors display resilience and compassion only seen by people in times of stress and hardship.
Copyright 2023, BrightPress.org