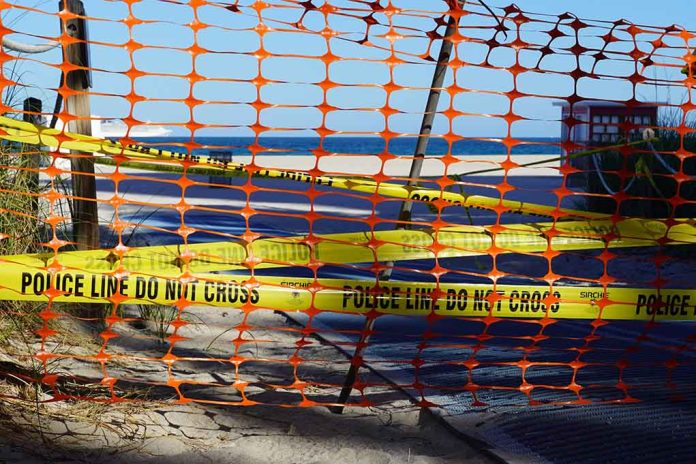 (BrightPress.org) – A man was executed in cold blood on the streets of Miami in the wee hours of Sunday morning, March 19th. Around 3:30 am, surveillance video captured a group of tourists walking with umbrellas when the shooter suddenly opened fire, emptying his clip into the target.
Police gave chase. They tackled, arrested, and charged 24-year-old Dontavious Leonard Polk with first-degree murder. Polk has a laundry list of convictions and charges for such things as assault, the battery of a person over the age of 65, carjacking, and burglary.
The unidentified victim perished after attempts to save his life at the Ryder Trauma Center failed. A second victim was injured in the shooting but is expected to make a full recovery.
The shooting is part of a larger pattern of increasing violence across the United States. Florida officials enacted a curfew in South Beach, Miami, on March 19th from 11:59 pm to 6 am in an attempt to curtail violence. Additional curfews are expected over the next few weekends as spring breakers arrive for the annual celebration of youthful indiscretions.
Miami Beach Mayor Dan Gelber issued a video statement condemning the violence, highlighting the fact that out-of-towners were suspected of committing the crime, not local residents. He also stated that police were only seconds away from the crime, but that still wasn't enough to prevent it.
Announcing his plan for curfews, he said that folks should not be out during the time indicated, and businesses in the area should close sufficiently in advance to avoid patrons violating the curfew. More curfews are likely to come, but the city can only enact them for 72-hour periods of time, he said.
Lamenting the difficulty of hosting spring break, Gelber called the situation wholly unacceptable.
An earlier shooting on Friday night resulted in the death of one man, and the grave injury of another. It also sent crowds screaming and running in panic from restaurants and clubs. One person was detained, but the police have not been forthcoming with any further details.
Copyright 2023, BrightPress.org