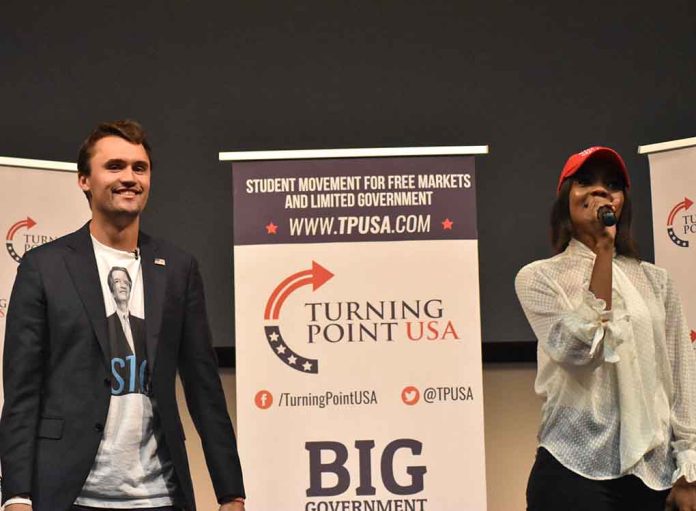 (BrightPress.org) – In a stunning display of how lies can lead to violence, UC Davis' speaking event featuring conservative content creator Charlie Kirk was attacked by a violent mob incensed by claims that he had somehow "advocated for violence against transgender individuals," spoken by the University's Chancellor Gary May.
In the short video, May thanked students for expressing their concerns and decried the event as some sort of hatefest. While calling Kirk transphobic or claiming he engages in hate speech is an opinion based on how one defines those terms, specifically claiming he has advocated for violence is untrue.
In response, or perhaps in concert with May's video, Antifa folks invaded the UC Davis campus where TPUSA was sponsoring the speaking event. They smashed windows and doors and vandalized the campus before police began arresting them. Additionally, there were some reports of people in the crowd being pepper sprayed by protestors. Aside from these pepper spray reports, thankfully, no major physical injuries were reported and no one requested treatment for injuries.
They also blocked off the venue, making the event, which was open to students and the public, inaccessible for some.
May's incitement to violence blamed California law for allowing TPUSA to come to their campus. In a stunning display of hypocrisy, May even mentioned that speakers could be blocked if they present "a clear and present danger to the campus" – the precise scenario conjured by violent leftist radicals wearing black bloc.
The entitlement of some people to not only determine what is and is not acceptable speech but also to deploy violence and vandalism against their political enemies is something we haven't seen this widespread since fascism became trendy in Germany and Italy in the mid-20th century.
Using gang violence, coordinated clothing to prevent identification, and intimidation against their political enemies, German and Italian fascists deployed similar tactics. Italian fascists even wore black and took to calling themselves "black shirts." Not a far cry from the black bloc worn by Antifa. These events are eerie warnings of the dire state of political affairs in America today.
Copyright 2023, BrightPress.org