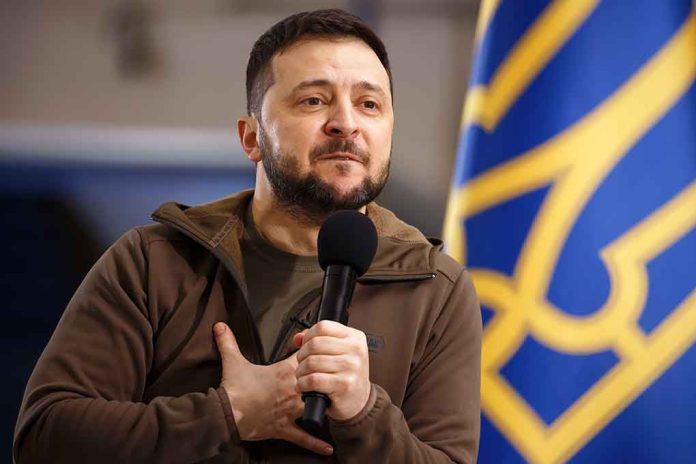 (Brightpress.org) – Ukrainian President Volodymyr Zelenskyy was in London on February 8th, and when he wasn't snapping photos with British politicians, he gave a speech before Parliament where he asked for British warplanes. While thanking his generous hosts for all their support, the UK has contributed roughly $2.5 billion to the war effort, Zelensky intimated that it was not enough to beat the Russians. In order to win, he's now asking for fighter jets.
This is his first visit outside of Ukraine in some time, and regardless Zelensky felt it appropriate to speak to Parliament, pose for pictures with Prime Minister Sunak, and meet King Charles all while wearing a drab olive green sweatshirt.
Perhaps something was lost in translation when Zelensky said, "The king is an Air Force pilot, and in Ukraine today, every Air Force pilot is a king." Zelensky's new round of political busking comes just after the U.S. and NATO forces agreed to train Ukrainian operators on new tanks, including the M1 Abrams, which is one of the most advanced weapons of war on the planet.
His performance wouldn't have been complete without some tangible item. Zelensky gifted a Ukrainian fighter pilot helmet to the British PM. Inscribed with the phrase, "We have freedom. Give us the wings to protect it" the gift was clearly another part of the package. Reciprocity is an innately human trait, many hucksters will take advantage by offering something of 'symbolic value' in exchange for something tangible. An autographed helmet in exchange for millions in fighter jets is a great example.
After greeting him on the tarmac and posing for a flurry of photographs, the PM took Zelensky straight to Downing Street to pose in front of his residence where he announced that Britain will be training Ukrainian personnel to use "NATO-standard fighter jets" a minor distinction from the British fighter jets, which they are not sending.
Zelensky's political busking act is on the road. How many more world leaders will he meet with and how much more money and material will he demand over the next few days?
Copyright 2023, BrightPress.org