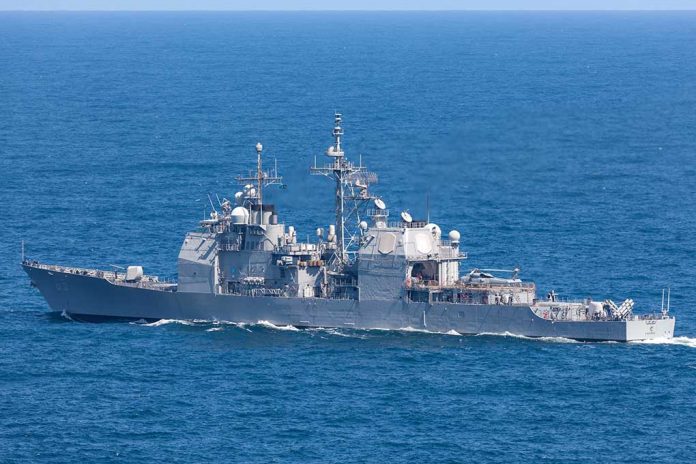 (BrightPress.org) – The US Navy's Ticonderoga-class cruisers are the largest, most diversified combat ships serving today. The military's 21 Ticonderoga-class cruisers have engaged in nearly every naval combat operation since 1980. The vessel boasts a massive 122 missiles and other weapons per ship, and the ship's multi-use roles include air defense, anti-ship, anti-submarine and ground-strike capabilities.
Despite its impressive combat readiness, the Navy again proposes decommissioning the ships in the 2022 budget. For nearly a decade, the military tried to eliminate the Ticonderoga missiles, citing unreliability and the high cost of operation and maintenance. Nonetheless, Congress is certain to rebuff the Navy's request.
The Navy is trying to get rid of its cruisers again, but it's heading for another fight over their fate https://t.co/HaGVyeqRKu

— David Papp (@DavidPapp) August 23, 2021
Despite the Navy's desire to decommission the battle-hardened cruisers, some people argue the threat from China is too great to eliminate one of the best maritime fighting tools. With the attempt to decommission the ships, Congress responds that it could set back America's ability to respond to China. More importantly, while the US Navy tries to eliminate one of its most potent combat ships, China is building its own class of cruisers capable of carrying 122 missiles. Currently, they have three in service, but the Chinese communist government is expecting 16 ships.
The Navy believes that by saving on the Ticonderoga-class missiles, it can build more sophisticated submarines, frigates, destroyers, Tomahawk missiles and hypersonic missiles to deal with the emerging Chinese threat. With potential danger looming so close, we may not have that luxury.
Copyright 2021, BrightPress.org