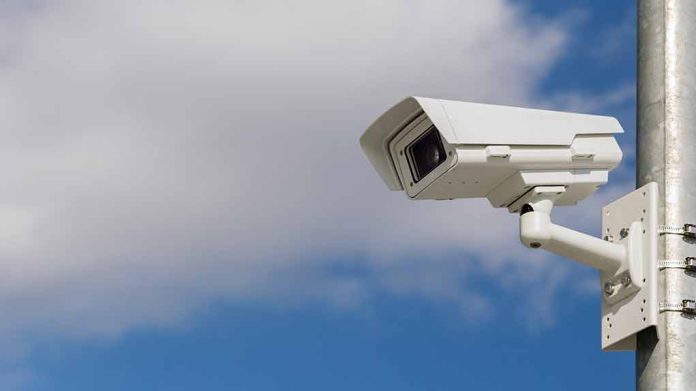 (BrightPress.org) – A uniformed U.S. soldier was caught on camera opening a gate along the southern border which allowed illegal immigrants to walk onto private property in Texas, according to a report from KTTV News.
Fox News national correspondent Bill Melugin shared security camera footage of the gate which clearly showed a group of dozens of migrants coming through a gate in barbed-wire-topped fencing while a female uniformed soldier looks on. The migrants are guided toward a white bus waiting for them on the property, while several officials facilitate. 
Melugin followed up with an inquiry to the Texas National Guard, who reported that the soldier was not one of theirs, but is from the Missouri National Guard under Title 10 working with the Border Patrol with orders from the federal government. 
Within 24 hours of his tweet going viral, the Texas Department of Public Safety deployed a state trooper to block the gate with one of their vehicles, juxtaposing the federal versus Texas response to the border inclusions by millions of migrants. 
U.S. citizens commenting on his thread were not pleased, to say the least. One noted the appearance of the bus, which suggested they had advanced notice or some other arrangement was made to transfer the migrants from that point deeper into the U.S. Others qualified the appearance of migrants as an invasion. One user referenced Article IV, Section 4 of the Constitution which requires the federal government to protect and defend U.S. borders. 
As Title 42 expired on Thursday last week, there was a surge in migration which has seemingly slowed in recent days. Officials are wary of another surge as cartels, NGOs, and other organizations trafficking people to and across the border adapt to the changing protocol. 
Florida Governor Ron DeSantis is sending backup to Texas to help defend the border. He authorized a combined force of law enforcement officers and Florida's National Guardsmen to be deployed to Texas totaling around 1,100 people. He also sent equipment and vehicles. The difference between how conservative state officials and national Democrats are responding to the situation is hard to miss.
Copyright 2023, BrightPress.org