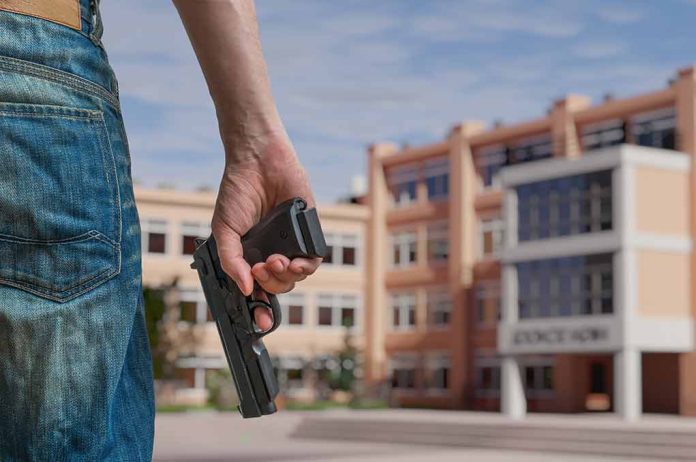 (BrightPress.org) – Nathan Cruz, 17, cousin of Uvalde school shooter Salvador Ramos was arrested in Texas on Monday, August 7th for making a terroristic threat, a felony charge. The San Antonio teenager was reportedly threatening to "do the same thing" as Ramos, and had also told his mother that "school was starting soon."
Ramos attacked Robb Elementary in May 2022, killing 19 students and 2 teachers in Uvalde, Texas before he was killed by police. He reportedly used the blood of his victims to paint "LOL" on whiteboards in some of the classrooms, displaying a psychopathic level of callousness.
Cruz's sister also reports concerning statements made by her brother, including him discussing how to illegally acquire an AR-15-style semi-automatic rifle, according to the arrest warrant. Cruz's family happens to reside across the street from an elementary school.
Cruz's mother claimed that her son was "intoxicated" while making the threats. His sister reported that he had threatened to shoot her in the head and then "shoot the school."
Mother and daughter agreed that the threats were credible due to their familial connection to Salvador Ramos. The warrant stated that a family member had overheard a phone conversation where Cruz was attempting to illegally purchase an AR-15.
Cruz is also currently on probation, though the reason for that is unclear.
Families testified to the Texas House in April 2023 in an attempt to lobby lawmakers to increase the legal age for requiring semi-automatic rifles from 18 to 21. Family members of the Uvalde shooting victims waited hours to give emotional testimony to the state representatives.
Republican Gov. Greg Abbott opposes the measure. One mother told the gathered politicians that they had a choice to make, unlike her deceased daughter. Another parent told lawmakers that his slain 9-year-old daughter was flagged trying to buy Super Glue at Walmart and suggested that something was "wrong with this picture."
Gun control legislation has gone nowhere in Texas, even after Uvalde, Republicans control too many votes and are too in favor of gun rights. Republican measures tend to focus on improving mental health services and enhancing security measures at schools themselves.
Copyright 2023, BrightPress.org