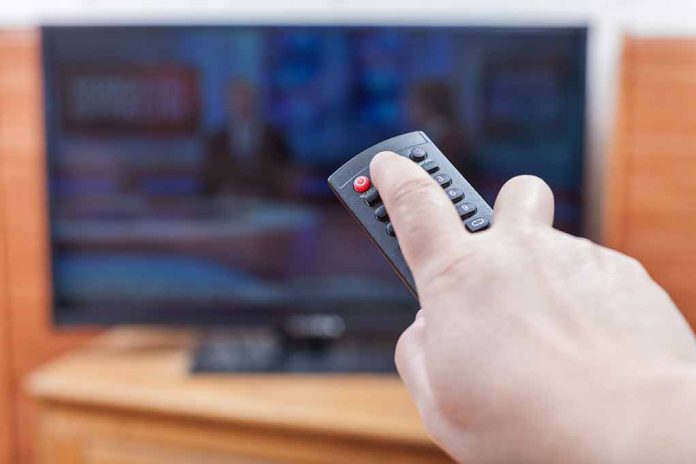 (BrightPress.org) – Ever since the ouster of former prime-time host Tucker Carlson from Fox News, the network had shed over 1.8 million viewers from its coveted 8 pm timeslot. Though what happened to the viewers remains somewhat of a mystery.
Fox competitor Newsmax, known for its right-leaning slant, has seen increased viewership since Carlson was let go. The increase does not correlate with the loss, however, it's not even close. Newsmax had an average boost of roughly ~200,000 viewers during prime time, which only accounts for a small fraction of Fox's loss.
The Washington Post ran the numbers, comparing average viewership for both networks in the four weeks up to and following Carlson's last show, which aired on April 21st. Carlson regularly pulled in 3.5M viewers for his show, "Tucker Carlson Tonight." The replacements, first Brian Kilmeade, and now Trey Goudy, have only pulled in 1.5M viewers on average, a stunning loss.
Newsmax has had an increase of almost 135% in the weeks following Carlson's firing, but only gained a few hundred thousand viewers on average, leaving analysts wondering where did the viewers go? Are they gone for good? Is there any way for Fox to earn them back? Short of reversing their decision to fire Carlson, that seems unlikely.
It's also unlikely that Fox would change its mind, given recent reports from Carlson's biographer and formerly frequent Fox guest Chadwick Moore that the firing was a part of the network's settlement with Dominion Voting Systems. Additional sources have confirmed that Tucker received a call on April 26th, in which he was told that his firing was a part of the settlement agreement.
That particular aspect of the settlement was a "verbal agreement" which suggests someone wanted to keep it secret from the public. Whether or not you agree with Carlson being let go, it does free him up for new ventures, if he can manage to wiggle out of the remainder of his contract. As it stands, he wasn't technically fired. He will continue to be paid, he just won't be allowed to work. Convenient for the powers that be who had frequently been exposed over the last few months by investigative reports aired to Carlson's audience of millions.
Copyright 2023, BrightPress.org