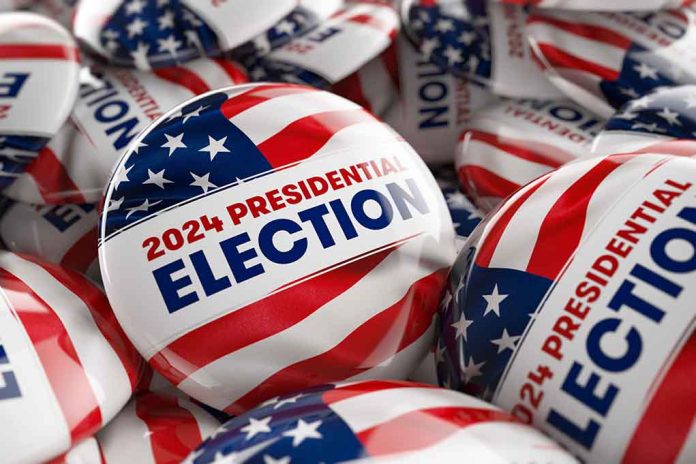 (BrightPress.org) – Author and entrepreneur Vivek Ramaswamy threw his hat into the ring joining the 2024 Republican primary race for president Tuesday, February 21st, during an appearance on Tucker Carlson. Ramaswamy is the author of "Woke, Inc." a book that details the spread of the neo-Marxist ideology seeping into America's corporate culture through HR departments and mandatory diversity, inclusion, and equity (DIE) training.
In his video announcement, Ramaswamy railed against "secular religions like Covid-ism, climatism, and gender ideology." Americans are in a crisis of meaning which the woke left preys upon, he explained. He called identity politics a form of "psychological slavery" which has replaced our culture of free speech with one where people are afraid to speak their minds. The text of his announcement was also published as a Wall Street Journal op-ed.
Echoing historical sentiments by MLK, Ramaswamy explained his view of the American dream is one where merit matters. Elaborating on the definition of merit, he defined the term by suggesting, "You get ahead in this country, not on the color of your skin, but on the content of your character and your contributions."
He also drummed on accountability, implying that our representatives have failed to represent their constituents and instead are representing corporate interests or political ideologies.
Free speech is very important to Ramaswamy; he believes that the best ideas should win instead of being censored by big tech or corporate media. He expressed a strong feeling that most Americans agree with our foundational principles, "we're really just Americans bound together by ideals."
A 37-year-old Ohio native, Ramaswamy was the child of Indian immigrants. His entrepreneurial endeavors include founding biotech company Roivant in 2014 and hedge fund Strive in 2022. He's the author of Woke, Inc. and Nation of Victims which came out in 2021 and 2022, respectively.
Ramaswamy joined the growing list of Republican hopefuls behind Nikki Haley, a governor of South Carolina and U.S. ambassador to the U.N. and former president Donald Trump.
Copyright 2023, BrightPress.org