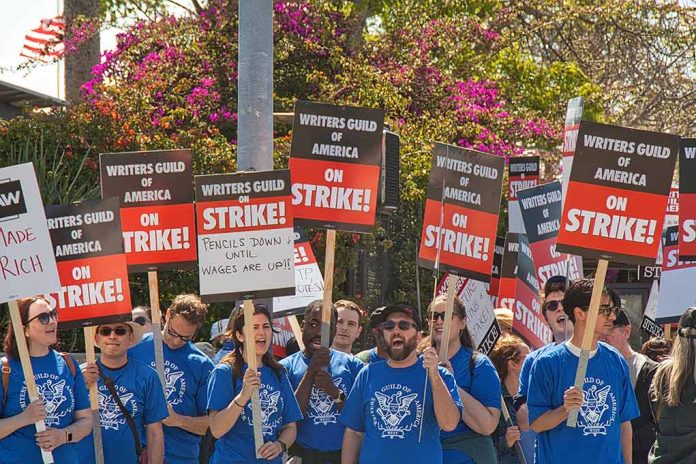 (BrightPress.org) – Warner Brothers CEO David Zaslav was relentlessly heckled and booed during a commencement speech he gave Boston University's 2023 graduating class on Sunday, May 21st. The gathered booed while Zaslav accepted his honorary degree, likely in relation to the ongoing writer's strike which has resulted in many shows taking time off production.
Folks shouted things like "pay your writers," along with other sentiments expressing their acrimony toward the wealthy CEO. In addition, many folks picketed outside the event with signs, one of which read "We Write, You Wrong."
Zaslav was interrupted multiple times while attempting to give his 20-minute speech. His remarks included sentiments expressing the value of hard work, why it's important to be kind, and how he got started in the film industry. The crowd wasn't impressed or moved by anything he had to say, rather they jeered, chanted, and alternatively booed at various points, including when he tried to give life advice to the young graduating adults.
The megacorporation counts TNT, HBO, DC Studios, and Cartoon Network among its assets, and Zaslav is the theoretical leader largely responsible for its success, or lack thereof. The negative commentary began as soon as BU President Robert Brown attempted an introduction while they gathered for the 150th commencement on Boston University's Nickerson Field.
He also commented that he had watched talented individuals lose jobs and other employment opportunities because they couldn't cooperate with others. He suggested finding something that appeals to you about a person and trying to navigate their more difficult behaviors. Students audibly rejected the suggestion, meeting his comments with laughs, shouts, and jeers.
He suggested he appreciated the education he received at Boston University and the opportunity to speak in a statement to The Hollywood Reporter. He also reiterated his desire to resolve the writer's strike "soon" and "in a way that recognizes their value."
Graduating senior Vanessa Bartlett suggested that she felt strong solidarity with the writers since she was in the same college and many of her friends were in the field. She helped lead the student protest inside Nickerson Field.
Whether or not their protest and the subsequent media attention impact the ongoing strike remains to be seen.
Copyright 2023, BrightPress.org