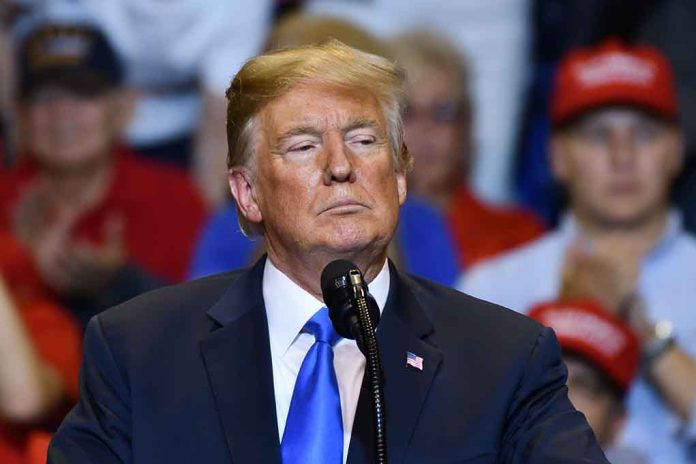 (BrightPress.org) – The White House dropped its report on the failure to withdraw safely from Afghanistan on Thursday, April 6th, while the headlines were dominated by news about Trump's indictment and many folks were off for the Easter holiday weekend. 
Their 12-page defense of the withdrawal largely blames former President Trump, the military, the Afghan government, and the intelligence community, but not once does it acknowledge a single failure on the part of President Joe Biden. 
He refuses to take responsibility for the failed pullout, including the deaths of 13 American soldiers who died when a suicide bomber attacked the Kabul Airport. 
Interestingly, the report does suggest the evacuation should have begun sooner but blamed the military, the Afghanis, and the intelligence community before the possibility that Biden bore any responsibility for the decision. The choice was his to make, right? 
Regularly referencing Donald Trump's removal of forces from Afghanistan and his desire to have America get out of that war, the document blames his administration for not instructing Biden on how to go about the withdrawal or providing an evacuation plan for the Americans and allies still there.
Would the Biden administration have followed any instructions or suggestions left by Trump? Given the way they reversed course on everything Trump did (except for the controversial treatment of Julian Assange), it's likely that any plans left would have been ignored. Now, suddenly, it's Trump's fault for not-telling Biden what to do. How convenient.
After the U.S. forces abruptly withdrew from Afghanistan in August of 2021, the Taliban took over swiftly and easily, capturing a ton of American equipment in the process, including guns, ground vehicles, and even aircraft. Roughly a thousand Americans were left behind and later evacuated, but that was the last president's fault, according to the White House.
Despite having months to prepare and execute the withdrawal, White House spokesman John Kirby laid all the blame in his spoken statement on Trump's failure to provide a framework for them to follow. If they needed him so badly, they should have conceded the election and let him take office. 
Copyright 2023, BrightPress.org