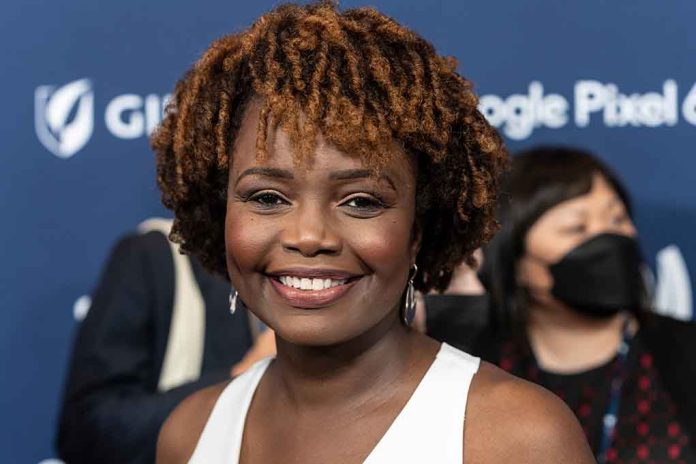 (BrightPress.org) — The Biden administration received a public thrashing Tuesday afternoon, January the 23rd, when White House Press Secretary Karine Jean-Pierre attempted to pit the blame on rising energy costs on House Republicans.
President Joe Biden and the Democrats have been regularly condemned for their so-called 'green' energy policies. Sean Hannity targeted Biden back in 2021 for stoking the rising cost of energy. Biden has cracked the strategic oil reserve twice in order to reduce price pressure (both before the midterm elections) and his administration's policies have shut down the expansion of the energy industry. The decision to shut down the Keystone Pipeline was a controversial decision that many experts and conservatives argue drove inflation.
"House Republicans will vote to raise gas prices on American families," Jean-Pierre claimed. Continuing, she said the president has done everything he could to lower the cost of gasoline, but that Republicans will use their majority to raise prices, harming American families.
Conservative Twitter was not having it. Townhall senior editor Matt Vespa was incredulous, "She did not just say this… your boss has been gashing us at the pump for months."
Writer Doug Powers said, "They somehow manage to get more shameless by the day."
Omri Ceren, an adviser on Senator Ted Cruz's staff tweeted, "Press sec mad libs" in response.
Newsbusters executive editor Tim Graham asked if "independent fact-checkers [were] napping again?"
Karine Jean-Pierre has repeatedly attempted to claim falling gas prices as a win for the Biden administration, it's a typical political irony that she's now scapegoating conservatives for the rise in prices when the cost of energy is going up around the world. Her administration bears some of that responsibility due to their mismanagement of our natural resources and reversal of Trump-era policies like the Keystone Pipeline.
Jean-Pierre also trotted out the age-old claim House Republicans intended to raise taxes on the middle class while giving tax breaks to the wealthy. "These extreme policies would subject working families to immense financial pain and balloon our deficit…" she claimed. Nothing like a good old decades-old political attack to silence the opposition.
Copyright 2023, BrightPress.org