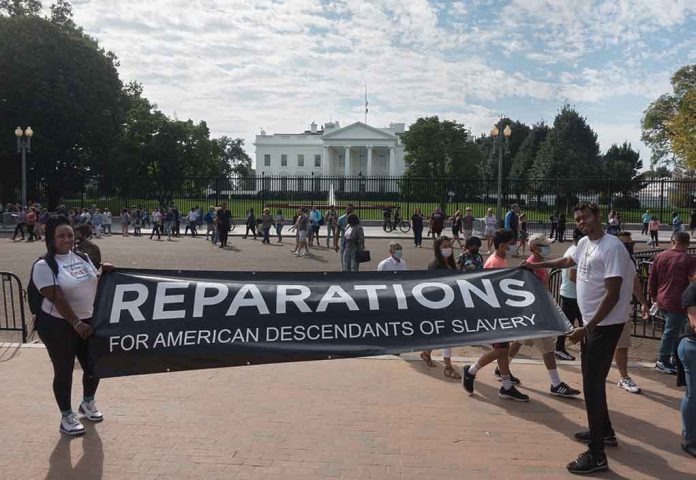 (BrightPress.org) – White House Press Secretary Karine Jean-Pierre refused to answer a question about Joe Biden's support or opposition to slavery reparation payments. San Francisco is currently debating a plan to give each eligible individual $5 million using their city's tax dollars. When asked on Tuesday, March 21st, she told reporters that the White House would not weigh in on the issue and will let Congress decide – a very clever dodge.
Jean-Pierre referenced legislation currently working its way through Congress on the subject, claimed the White House saw it as the "appropriate venue for consideration" and announced their intention to "leave it there" for the time being.
Continuing to rattle off her talking points, she said she would speak about what the President has done, and then didn't. She insisted there was a crisis of racial equity and racial inequality and that the President has fought for the black community. Concluding, she reiterated that Congress will analyze the issue further, and make a determination.
Rep. Sheila Jackson-Lee (D-TX) introduced her bill in January of this year that aims to analyze and create potential proposals for reparations for the descendants of slaves. Her $20 million dollar proposal would seek to study the impact of slavery and use information "from 1619 to 1865" to determine who was eligible and for how much.
The Reparations Task Force in San Francisco is proposing $5 million dollar payments for eligible petitioners, which would run taxpayers $600,000 each – imagine seeing that amount on your tax bill!
The state of California is similarly looking at a $640 billion dollar proposal that would give $360,000 to each eligible applicant; they've estimated as many as 1.8 million Californians could apply for the payout. Their final proposal will be published on July 1st, 2023. It's worth mentioning that the initial proposal amount of $223,329 per resident was dramatically increased over the course of their analysis, suggesting Californians are seriously considering huge lump sum payments for descendants of slaves.
Given Democrats' willingness to spend endless sums of money we don't have on their political agenda items, passage into law is a distinct possibility.
Copyright 2023, BrightPress.org