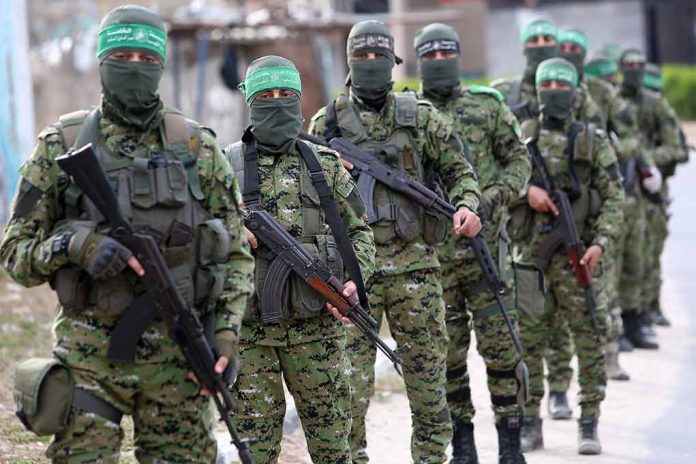 (BrightPress.org) – New York City leaders put extra cops on the streets after a former Hamas leader called for a "Day of Jihad" on Friday, October 13th.
Khaled Meshaal issued the call for a "day of rage" around the globe on Friday in response to Israeli forces attacking Gaza in their search for hostages taken in their attacks on Israel over the weekend. Hamas fighters flew over the Gaza border wall and attacked civilians, killing hundreds and taking dozens more as hostages back into Gaza.
Meshaal suggested it was time to put their jihadi teachings into action. While protests are expected in NYC, violence will not be tolerated.
New York Gov. Kathy Hochul (D) and Mayor Eric Adams (D) held a press briefing on Thursday announcing the extra security measures and additional officers. They said cops would patrol places of worship, schools, and transportation centers to maintain order or react to any emerging threats.
Hochul reiterated that they had no specific threats or credible information that an attack was imminent. She explained that the current moment demanded "elevated vigilance" and that they were taking extra steps to deter potential violence.
Adams promised enhanced police visibility in NYC and promised they would put extra security around Jewish neighborhoods and places of worship. He said they were "deeply disturbed" by Meshaal's call for bloodshed and said such words were "not acceptable."
Adams called protecting city residents his "most sacred responsibility." He wanted to make sure the city remained "a place of peace." Hochul urged residents to maintain their normal daily lives and not let "terror win" by staying home or otherwise altering their daily routine due to fear.
NYPD issued an alert stating that they engaged in protective deployments solely as a cautionary move around any cultural centers and places of worship that could potentially be targeted by extremists. The extra security will be keeping an eye on all bridges, tunnels, and parking areas. NYC cops are maintaining an active presence at their Joint Operations Center downtown.
Copyright 2023, BrightPress.org