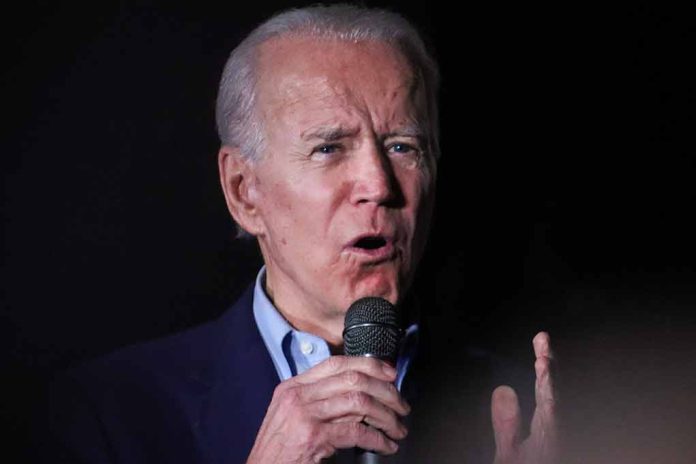 (BrightPress.org) – President Joe Biden was caught lying again when he claimed that he surveyed the damage from 9/11 the very next day. Congressional records indicate that he was in Washington, D.C. all day on September 12th, 2001. In a speech where he described seeing through "the gates of hell," Biden described the devastation of the attacks and marked their anniversary at the Joint Base Elmendorf-Richardson in Anchorage, Alaska.
However, CSPAN coverage shows that Biden gave a speech on the floor of the Senate on September 12th, 2001. Further records suggest the Senate met that morning followed by a classified Senator-only briefing at 2 p.m., and showed Biden took part in a vote on a resolution condemning the attacks the same day.
The New York Post pointed out that Biden couldn't even keep consistent with his own autobiography wherein he reported heading "back to the Capitol" on the 12th without referencing any visit to Ground Zero. It also relayed a line from a Gannett News Wire report from the 12th suggesting that then-Senator Biden spent the day in the Senate which was "exactly where he wanted" to be.
The White House responded to questions by pointing out Biden made a trip to the site on September 20th, 2001 while ignoring the incongruence on the timing.
Biden was heavily scrutinized from across the political spectrum, as well as by relatives of some of the victims for failing to appear at the site and instead marking the occasion while in Alaska.
He was the first president in 22 years to fail to make it to the site to mark the date, Retired Air Force Lt. Col. Donald Arias, whose brother died in the attacks, said he was not surprised by the failure and that he preferred Biden stay out of it anyway. Arias said that they could do without Biden's awkward anecdotes like how he compared his kitchen fire to the destruction in Lahaina.
Copyright 2023, BrightPress.org