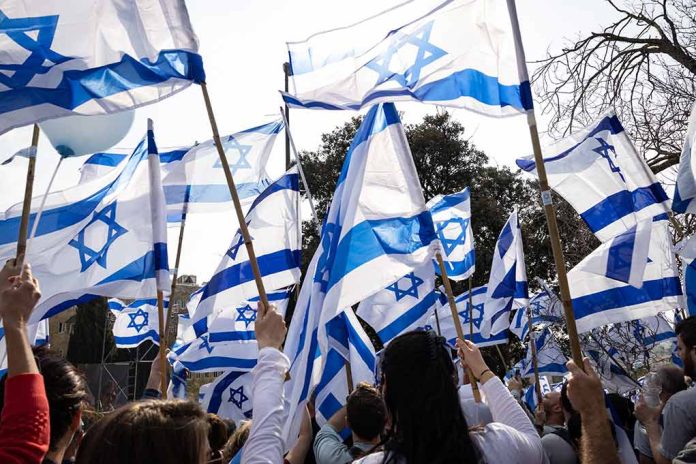 (BrightPress.org) – Hundreds of Detroit Jews were stranded after they flew to Washington, D.C. to participate in a large protest in support of Israel in its war against Hamas. A significant number of those traveling were unable to make the final leg of the trip from Dulles Airport to the protest on the National Mall due to bus drivers walking off the job or calling in sick. It's been alleged that the drivers did not want to ferry the protesters due to their political beliefs.
Members of the Jewish Federation of Detroit and the Jewish Community Relations Council arranged to travel to the nation's capital to protest for the freeing of the 240 hostages taken by Hamas during its October 7th surprise attack and in solidarity with the state of Israel, according to David Kurzmann, a director with the Jewish Federation.
Kurzmann reported that a number of the buses they had booked to transport people from the airport failed to show up at their designated time. This forced some travelers to miss it entirely, while others were late. About a third of their group was affected. Kurzmann called the incident "a deliberate and malicious walk-off."
He said they were "deeply dismayed" and called the behavior "disgraceful." He further said it only strengthened their resolve to protest for the safe return of the hostages, stand in solidarity with Israel, and condemn antisemitism.
They declined to name the bus company responsible. Kurzmann said they discovered the problem while waiting for the buses at 11 a.m. on Tuesday, November 14th. They said that while on the phone with the company, they were informed that some drivers had called in sick after learning of the assignment.
Ella Cohen, 19, joined the protests and said she was lucky that her transportation wasn't affected. She said they ended up doubling up on buses that did show up, with passengers standing in the aisles or sharing seats. She called it "very hectic." She also said people ordered Uber rides so they could make it.
Tens of thousands of Israel supporters marched on the mall on Tuesday with a police presence maintaining order. Senate Majority Leader Chuck Schumer (D-NY) was in attendance along with House Speaker Mike Johnson (R-LA), House Minority Leader Hakeem Jeffries (D-NY) and others.
Copyright 2023, BrightPress.org