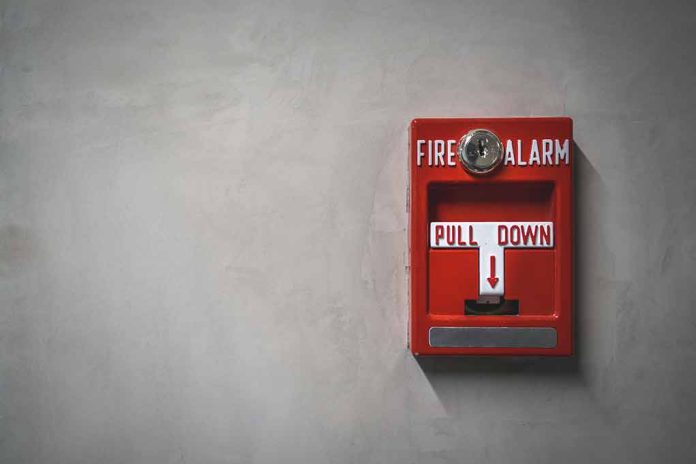 (BrightPress.org) – House Representative Jamaal Bowman (D-NY) admitted guilt last Thursday, October 26th for intentionally pulling a fire alarm in the House Office Canon Building before a crucial government funding vote. Bowman had made a deal with DC prosecutors wherein he'll exchange a written apology to the DC Capitol Police and a $1,000 fine for having the federal crime forgiven with no jail time.
Despite having intentionally interrupted an official proceeding of Congress, Bowman was not charged with that more serious crime, a frequent charge deployed against January 6th protesters, many of whom remain behind bars to this day without a trial. Jake Lang recently passed 1,000 days behind bars, for example.
Footage of Bowman shows the Congressman pulling down warning signs on the door before yanking the fire alarm. Many commenters have pointed out that Bowman's previous employment included working as a principal, suggesting he would have been familiar with how fire alarms work.
The timing of Bowman's alarm was crucial, the House was set to pass a government funding bill without additional funding for the Ukrainian war effort. Democrats were attempting to garner the votes they needed to include the funding and they needed more time. Bowman bought it for them, but ultimately they weren't able to secure the votes they needed, and Bowman got off with a slap on the wrist for his little insurrection.
After Bowman pens the apology letter and pays off the fine, the DC attorney general will withdraw the charges, according to Fox News Digital. For comparison, Enrique Tarrio was sentenced to 22 years in prison and he didn't even go into the Capitol.
Bowman's little stunt forced the evacuation of the Canon Office Building. Rep. Nicole Malliotakis has introduced legislation to expel Bowman from the House. She commented on X, saying that Congress is not a high school and his stunt deserves expulsion.
Bowman has attempted to deflect criticism by claiming that he mistakenly believed that the alarm pull would open a set of fire doors, however after pulling the alarm Bowman failed to exit through those doors. He also lied, claiming previously that the doors were normally open, they have been and will remain a fire exit.
Copyright 2023, BrightPress.org