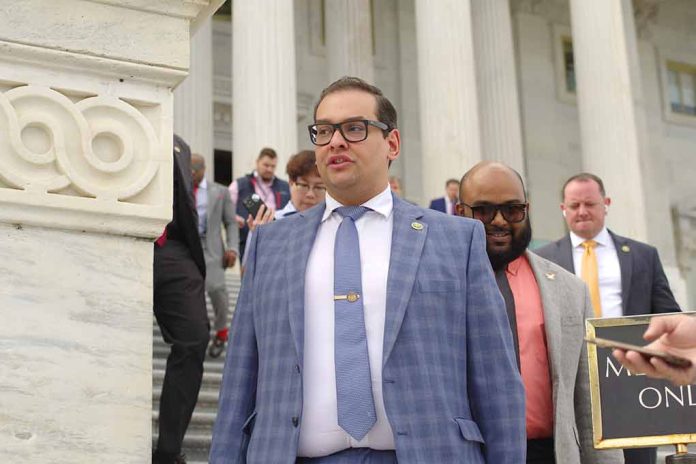 (BrightPress.org) – Speaker Mike Johnson will have to decide whether or not to bring a resolution expelling infamous New York Representative George Santos (R) to the floor. He'll have to weigh losing another Republican seat against the looming criminal charges against Santos. New York Republican Representatives are responsible for the resolution and are eager to see Santos kicked out of Congress.
The expulsion vote requires two-thirds of the House to vote in favor of it to pass. Democrats typically vote in a block and they are eager to gain another seat in their favor, but the Republican party is heavily divided, and it is still uncertain whether or not they'll have the votes to boot Santos ahead of any criminal convictions or if they'll decide to delay the process.
New York Republicans are ready to give Santos the boot, but that doesn't ring true for the rest of the conservative caucus. Some want to wait for a conviction, others prefer letting the voters sus it out next year when members of the House are up for re-election.
Rep. Nicole Malliotakis (R-NY) said Santos' days are numbered regardless of whether he's convicted, booted, or voted out. She recently introduced legislation to boot Rep. Jamaal Bowman (D-NY) after he admitted guilt for pulling a fire alarm in the Capitol Canon Office Building, triggering an evacuation. Bowman claimed he was rushing to get to a vote, critics claim he knowingly pulled the alarm to delay a vote. He claimed that it was an accident, despite video evidence showing him ripping down warning signs and activating the alarm without exiting through the door he claimed he was trying to open.
Santos has maintained his innocence throughout the ordeal. He stands accused of some fraud and financial crimes, including falsifying records, conspiracy, identity theft, and credit card fraud. Accusations are not convictions, and Santos has argued he's entitled to due process like anyone else accused of a crime.
Copyright 2023, BrightPress.org