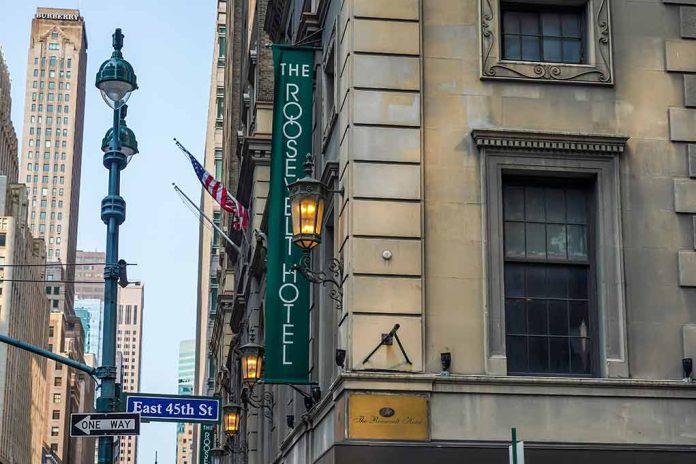 (BrightPress.org) – The Fire Department of New York is anticipated to issue multiple shut-down orders at migrant housing centers around the city due to unsafe or unhealthy conditions. FDNY and Office of Emergency Management personnel have already inspected seven sites and flagged multiple fire and health hazards, according to the New York Post.
New York City Councilman David Carr previously ripped the city's decision to send over 100 migrants to stay at St. John Villa Academy on Staten Island. A city official speaking with the post anonymously said that they "desperately" need the space. A ruling mandated they be evacuated to another location was temporarily stayed while the decision was being appealed.
Rep. Nicole Malliotakis (R-Staten Island/Brooklyn) lambasted the decision to house migrants in the school. She said Mayor Eric Adams puts "the citizens of other countries before his own."
Former mayoral candidate and co-founder of the Guardian Angels Curtis Silwa opposes the housing of migrants at the school and organized multiple protests against the move. He said a previous decision to expand the number of migrants from 70-80 to over a hundred antagonized the community and violated the spirit of previous negotiations with the city.
A spokesman for city hall blamed the crisis on the federal government and explained that New York City was doing its best to cope with more than 120,000 migrants who are arriving to the tune of 10,000 per month.
The city is currently funding over 210 housing locations for migrants, including 17 that are considered "large." The spokesman reiterated the need for a national solution.
Adams recently ventured to Central America to attempt to reduce the traffic coming over the southern border. His team warned that more migrants are coming by the busload every week.
NY Judge Ozzie ruled on September 26th that the 40-year-old right to shelter law in the city is "a relic of the past." He said that the decree was crafted to address a particular problem that existed at the time and was never intended to be used to mandate the housing of over a hundred thousand illegal immigrants.
Copyright 2023, BrightPress.org