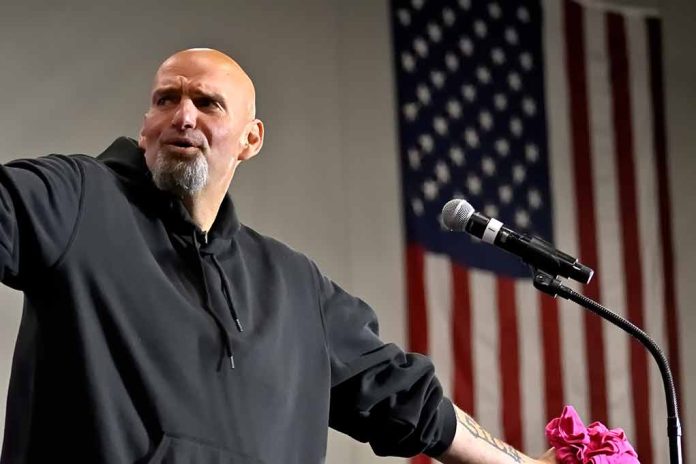 (BrightPress.org) – Sen. John Fetterman (D-PA) cracked a joke about his stroke in response to a heckler shouting about the number of Palestinians killed in the fighting with Israel since October 7th. Fetterman was speaking at a Get Out the Vote rally in McKeesport, PA on Sunday, November 5th.
The heckler yelled that "four thousand-plus" children have been killed, and a total of nine thousand civilians in Gaza are dead as a result of the fighting in Gaza and the West Bank, according to data from the Palestinian health ministry. He said Fetterman had "blood on his hands" and repeatedly shouted at him to leave the stage.
Fetterman didn't respond directly to any of the protester's jabs, opting to blame his stroke, saying the joke was on the heckler because he had a stroke and couldn't fully comprehend his comments.
Leftist groups have been incensed by Democrats unwilling to call for a ceasefire.
Fetterman typically avoids relying on his injuries to deflect criticism, this marks one of the rare times he's deployed the technique. Republicans and critics have argued before that Fetterman is incapable of performing his duties as a Senator given the intense rigors of the job. The Senator himself has rebuffed concerns that his disabilities impair his performance.
His remarks have been edited by his staff after the fact in published statements to promote clarity and make them more understandable than what he had uttered.
Fetterman has been making improvements in his recovery, according to the Washington Post. He doesn't require as much help conveying his thoughts to audiences or reporters as he had previously. Fetterman also was hospitalized in the Spring for weeks due to depression.
Only Senator Dick Durbin (D-IL) has called for a ceasefire out of all the Senators so far. At the time of writing 24 Representatives in the House had also published official calls for a ceasefire.
Prime Minister of Israel Benjamin Netanyahu has said they won't consider a ceasefire until all of the hostages taken by Hamas on October 7th are freed unconditionally.
Copyright 2023, BrightPress.org