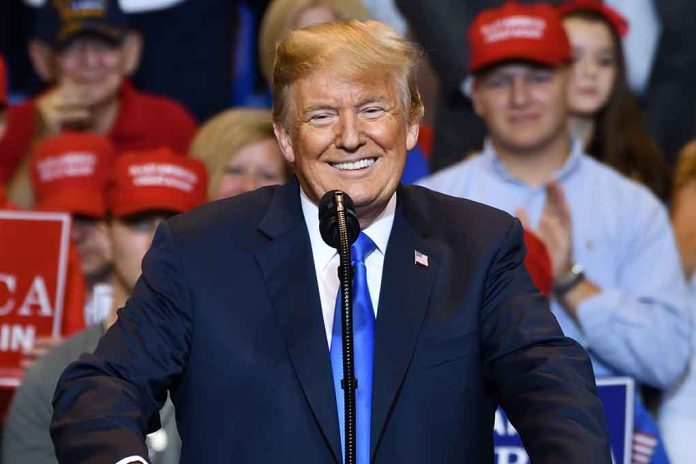 (BrightPress.org) – On Wednesday, November 8th, Former President Trump held a rally in Hialeah, where Mayor Esteban "Steve" Bovo unveiled his plan to dedicate an avenue in the city to honor the former president.
Hialeah, known for its vibrant Cuban-American community, continues to show support for Trump, with a city council candidate even incorporating his image on campaign signs.
The rally happened at Henry Milander Park, about a half-hour drive from the Adrienne Arsht Center in Miami, where his 2024 Republican presidential nomination rivals were concurrently debating.
During the event, Mayor Bovo praised the former president, emphasizing Trump's record of keeping his promises. Bovo announced his intention to request the city council to name a street after Trump the following week, proposing the name "Donald Trump Way."
Hialeah had previously been considered to be renamed after the former president in 2022. Still, the effort faced public backlash and was halted following a 3-0 vote by the Hialeah Historic Preservation Board.
In a statement made at last year's board meeting, a local artist expressed concern, stating that naming a Hialeah street after the former president could be offensive to women, people of color, the LGBTQ community, and immigrants. The artist argued that such a change would signal opposition to the people of Hialeah.
President Trump's recent rally took place at Ted Hendricks Stadium on Palm Avenue, the same street where the 2022 resolution to rename it as "President Donald J. Trump Avenue" was rejected.
During the 2022 meeting, Hialeah resident Robert Gewanter, known for sharing political views on the sign outside his M&M Package Store, strongly disagreed with the board's proposal. Gewanter expressed his opposition, stating, "When you name the street after Trump, you not only disrespect yourselves and our city, but you also disrespect my friend, Pete Cainas, who died protecting our peace and safety" — referring to a Hialeah police sergeant killed on duty in 1992, with a street in Hialeah already named in his honor.
A member of the Historic Preservation Board during the 2022 meeting expressed concern, stating, "If we make a mistake on this, it will be embarrassing for the city."
Copyright 2023, BrightPress.org